Ralls Janet
Dessert apple
Malus domestica Borkh.
Originated on the farm of Caleb Ralls in Amherst County, Virginia, USA. First known in about 1800. Fruits have firm, crisp, tender flesh with a subacid, slightly sweet, aromatic flavour.
Synonyms:

Genet, Geneton, Geniton, Gennetin, Genneting, Gennetting, Ginet, Indiana Janetting, Indiana Jannetting, Janet, Janet de Rawle, Janetting, Jefferson Pippin, Jeniton, Jennett, Jennette, Jenniton, Missouri Janet, Never Fail, Neverfail, Ralls, Ralls Genet, Raul's Genetting, Raul's Gennetting, Raule Jannet, Raule's Genet, Raule's Janet, Raule's Janett, Raule's Janette, Raule's Jannating, Raule's Jannet, Raule's Janneting, Raule's Jannette, Raule's Jannetting, Raule's Jennetting, Rawl's Janet, Rawle's Genet, Rawle's Gennett, Rawle's Gennetting, Rawle's Janet, Rawle's Janett, Rawle's Jannet, Rawle's Jennet, Rawle's Jenneting, Rawle's Jennette, Rawles Janet, Rawles' Jannet, Red Never Fail, Red Neverfail, Rock Remain, Rock Rimmon, Rockremain, Rockrimmon Rowle's Janet, Royal Janette, Winter Genneting, Winter Jannetting, Winter Jounetting, Yellow Janett, Yellow Janette

Availability

Material available from the National Fruit Collection.

Mother to:

Father to:
Shape

Truncate conical 2

Size

small-medium 2

Ground Colour

Yellow 2

Over Colour

Red 2

Over Colour (Pattern)

streaked/mottled 2

Russet

very low 2

Crunch

crisp 2

Coarseness

fine-medium 2
Accession No.
1953 - 133
Accession name

Ralls Janet

Flowering time ›››

13th May

10% flowering


18th May

Full (80%) flowering


26th May

90% petal fall

Picking time

Late October 1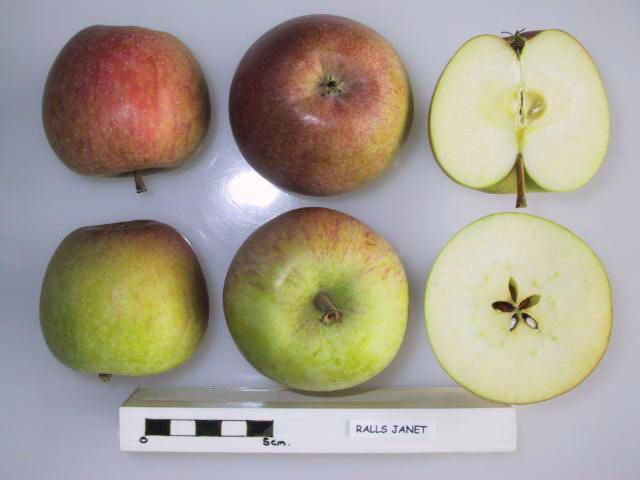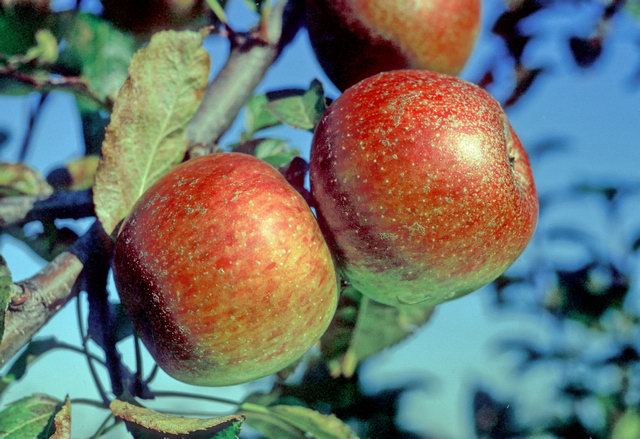 ---
References:

1.

NFC fruit (undated) Unpublished characterisation by staff at NFC, Brogdale.

2.

Smith, M. (1971) National Apple Register