Danziger Kantapfel
Culinary / Dessert apple
Malus domestica Borkh.
Thought to have arisen from the Danzig area, Poland. It was first mentioned in 1760. Fruits have fairly firm flesh with a sweet subacid, slightly aromatic flavour. Flesh is often stained red under the skin.
Synonyms:

Abraham's Apfel, Angolosa Danzica, Apfelmuser, Bendleber Rosen, Bentlebener Rosen Apfel, Bentlebener Rosenapfel, Bentleber, Bentleber Rose, Bentleber Rosen, Bentleber Rosenapfel, Calleville de Dantzick, Calvil de Danzig, Calvillartige Winter-Rosenapfel, Calvillartiger Winter Rosen Apfel, Calvillartiger Winterrosenapfel, Calville de Dantzick, Calville de Dantzig, Calville de Danzig, Calville du Dantzig, Cousinotte d'Automne, d'Amour Rouge, Danczigi bordas, Dansky Hranac, Dantigska rabesta, Dantigskoe rebristoe, Dantsigskoe rebristoe, Dantzig a cotes, Dantziger Kant, Dantziger Kantaeble, Dantziger Kantapfel, Dantziger Kantappel, Dantziger Kantapple, Danziger Kant, Danziger Kant Apfel, Danziger Kantaeble, Danziger Kantapple, Danziger Kantæble, Danzigsapple, Danzingi bordas, Ditrichs Winter-Rosenapfel, Erd Beere, Erdbeerapfel, Florentiner, Gdansky hranac, Geddeholm's Calville Rouge, Geddeholms Calville Rouge, Grosser Roter Herbst Faros, Grosser Roter Herbst-Faros, Grosser Rother Herbst Faros, Himbeerapfel, Hranac Gdansky, Kant Appel, Kantapfel, Kantapfel Danziger, Kantowka Gdanska, Laurentius Apfel, Lorenz Apfel, Lorenzapfel, Mainapfel, Marien Apfel, Marienapfel, Mela Fiorentina, Paradies Apfel, Paradiesapfel, Pomme d'Amour rouge, Pomme de Danztig a Cotes, Pomme Rose, Pomme-Fraise, Pomme-Framboise, Principaler, Rella, Rhode Kant, Rode Kant Apfel, Rode Kant Appel, Roode Kant, Rose d'Hiver, Rose d'Hiver en forme de Calville, Rose de Bentleber, Rosen Apfel, Rosenapfel, Rosenfarbener Gestreifter Herbst Cousinot, Rosenhager, Roter Apollo, Roter Calvill, Roter Cardinal, Roter Kantapfel, Roter Liebes Apfel, Roter Liebesapfel, Roter Mark Apfel, Roter Markapfel, Roter Wulstling, Roter Zwiebel Apfel, Rubiner, Safstaholm's Rode Winter Rambour, Safstaholms Roda Winter Rambour, Saftstaholm Rode Winter Rambour, Saftstaholms roda, Schmutzer, Schwabischer, Schwabischer Rosen Apfel, Schwabischer Rosenapfel, Sommerer, Spater Weinapfel, Tiefbutz, Tiefbutzer, Winter Rambour, Winter Rosen, Winter Rosen Apfel, Winter Rosenapfel, Zebernac Gdansky

Availability

Material available from the National Fruit Collection.
Shape

Truncate conical 2

Size

medium-large 2

Height

56.50mm 2

Width

68.00mm 2

Ribbing

strong 2

Ground Colour

Green yellow 2

Over Colour

Brown 2

Over Colour (Amount)

high-very high 2

Over Colour (Pattern)

streaked 2

Russet

very low 2

Coarseness

medium 2

Flesh Colour

Yellowish 2
Accession No.
1948 - 656
Accession name

Danziger Kantapfel

Flowering time ›››

7th May

10% flowering


12th May

Full (80%) flowering


19th May

90% petal fall

Picking time

Early September 1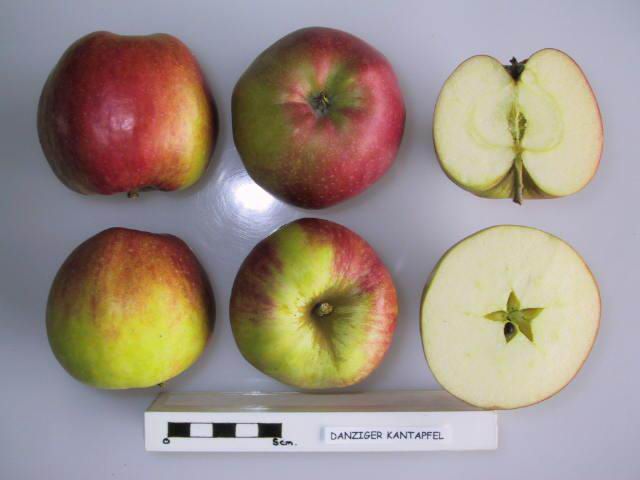 ---
References:

1.

NFC fruit (undated) Unpublished characterisation by staff at NFC, Brogdale.

2.

Smith, M. (1971) National Apple Register