Framboise
Dessert apple
Malus domestica Borkh.
First described by Knoop, a Dutch pomologist in 1771. Fruits have sweet, juicy, softish flesh with a raspberry like flavour.
Synonyms:

Alnarps Rosmarin, Calleville d'Automne raye, Calville d'Automne raye, Calville d'Automne Rayee, Calville Rayee d'Automne, des Quatre-Gouts, Erdbeer Apfel, Erdbeerapfel, Framboise d'Ete, Framboise d'Oberland, Framboos, Framboos Appel, Framboox-Apple, Fruher Hainbutterapfel, Gestreifter Herbst-Calville, Himbeer Apfel, Himbeerapfel, Malinove hornokrajske, Malinovoe oberlandskoe, Malinovoe Oberlyandskoe, Malinowa Oberlandska, Malinowe Oberlandzkie, Malinowka Oberlandska, Oberlander, Oberlander Himbeer, Oberlander Himbeer Apfel, Oberlander Himbeerapfel, Oberlandskaya Malinovka, Reinette des Quatre Gouts, Roter Herbst Aniscalvill, Salove Jablko

Availability

Material available from the National Fruit Collection.
Shape

Truncate conical 2

Size

large 2

Height

64.00mm 2

Width

73.00mm 2

Ribbing

medium 2

Ground Colour

Whitish yellow 2

Over Colour

Red 2

Over Colour (Amount)

high-very high 2

Over Colour (Pattern)

striped/mottled 2

Coarseness

fine 2

Flesh Colour

White 2
Accession No.
1996 - 019
Accession name

Framboise

Flowering time ›››

24th April

10% flowering


26th April

Full (80%) flowering


8th May

90% petal fall

Picking time

Late September 1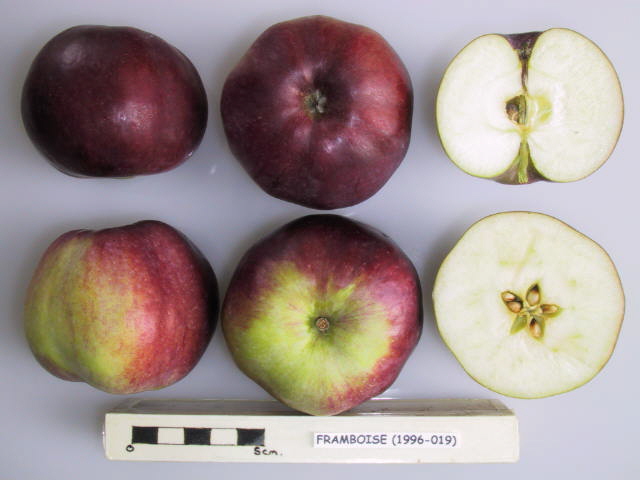 ---
References:

1.

NFC fruit (undated) Unpublished characterisation by staff at NFC, Brogdale.

2.

Smith, M. (1971) National Apple Register