Baumann's Reinette
Culinary / Dessert apple
Malus domestica Borkh.
Thought to have been raised in Belgium by Van Mons. It was dedicated to Baumann Brothers of Bouxwiller, Belgium. Recorded in 1811. Received a First Class Certificate from the Royal Horticultural Society in 1878. Fruits are rather coarse textured, fairly juicy, a little acid with a faint aromatic flavour.
Synonyms:

Bauman's Reinette, Baumana, Baumann, Baumann renet, Baumann's, Baumann's Red Reinette, Baumann's Red Winter Pearmain, Baumann's Red Winter Reinette, Baumann's rote Winter Reinette, Baumann's rothe Winter, Baumann's rothe Winter Reinette, Baumann's rothe Winterreinette, Baumann's Winter Reinette, Baumann's Reinette, Baumannova reneta, Baumanns Reinette, Baumanns Renett, Baumanns Renette, Baumanns Rote Winterrenette, Baumanns rother Winter Reinette, Baumanova reneta, Baumans rother Winter-Reinette, Couronne des Dames, Couronne des Dames d'Enghien, Krasnyi renet, Red Winter Reinette, Reinette Bauman, Reinette Baumann, Reinette Baumann's Rother Winter, Reinette Bollwiller, Reinette de Bollviller, Reinette de Bollwiller, Reinette de Bolwiller, Reinette de Bolwillers, Reinette de Bolwyller, Reinette rouge d'hiver de Baumann, Reinette rouge de Baumann, Renet Baumana, Renet Baumann, Reneta Baumana, Renetta Baumann, Rote Reinette, Roter Reinette, Rothe Winter

Availability

Material available from the National Fruit Collection.

Father to:
Shape

Flat 2

Size

medium 2

Height

57.00mm 2

Width

63.00mm 2

Ribbing

weak 2

Ground Colour

Yellow 2

Over Colour

Red 2

Over Colour (Amount)

high-very high 2

Over Colour (Pattern)

striped 2

Coarseness

coarse 2

Flesh Colour

White 2
Accession No.
2000 - 017
Accession name

Baumann's Reinette

Flowering time ›››

5th May

10% flowering


10th May

Full (80%) flowering


16th May

90% petal fall

Picking time

Late September 1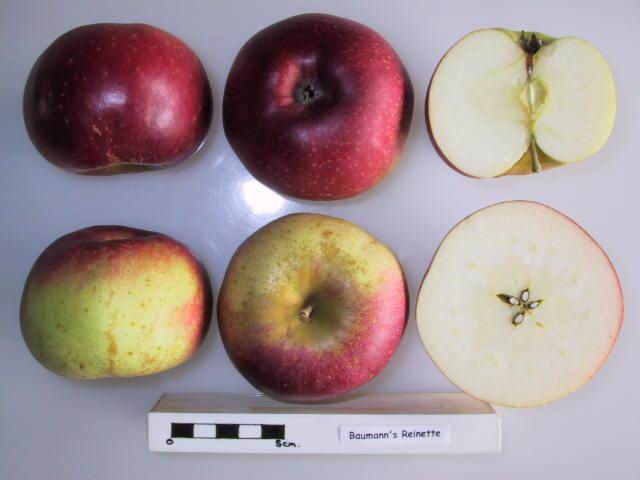 ---
References:

1.

NFC fruit (undated) Unpublished characterisation by staff at NFC, Brogdale.

2.

Smith, M. (1971) National Apple Register