Mela Carla
Dessert apple
Malus domestica Borkh.
Said to have originated from Finale Ligure, Trentino or Calabria, Italy. First described in 1817 but thought to be considerably older. Fruits have fine, loose textured, melting, white flesh with a sweet and perfumed flavour.
Synonyms:

Carla, Carle, Carle Pomme, Carlisapfel, Carls Apfel, Caroli, Caroli d'Italie, Caroli de Finale, Caroli di Finale, Caroly, Charles Apple, Cosenza Gentile, Cossenza, Cossenza Gentile, de Charles, Der Kostlichste, Der Malacarle, di Finale, Finale, Finale Apfel, Finale Apple, Kestlichster, Kostlicher von Tirol, Kostlichster, Kostlichster von Zallinger, LahodnT z Tyrol, Legizletesbalma, Mal Carle, Mala Carla, Mala Carle, Malcarle, Male Carle, Malecarle, Malo Carle, Malus Caroli, Malus Christii rotundifolius, Marle Carle, Mela Azaruela, Mela Azeruola, Mela Carlo, Mela de Carlo, Mela di Carlo, Mela di Finale, Mela Lazzeruola, Mela Napoleone, Melacarle, Mele Carle, Mele Napoleone, Melecarle, Melo di Carlo, Napoleon, Napoleone, Napoleonsapfel, Pomme Carl, Pomme Carle, Pomme Caroli Magni, Pomme de Charles, Pomme Delicieuse, Pomme Finale, Pomme Malecarle, Pomum Caroli Magni, Prelestneisee, Prelestnoe, Zallingerapfel

Availability

Material available from the National Fruit Collection.
Shape

Broad globose conical 2

Size

medium-large 2

Ribbing

weak 2

Ground Colour

Green yellow 2

Over Colour

Red 2

Coarseness

fine 2

Flesh Colour

White 2
Accession No.
1947 - 004
Accession name

Mela Carla

Flowering time ›››

2nd May

10% flowering


7th May

Full (80%) flowering


16th May

90% petal fall

Picking time

Early October 1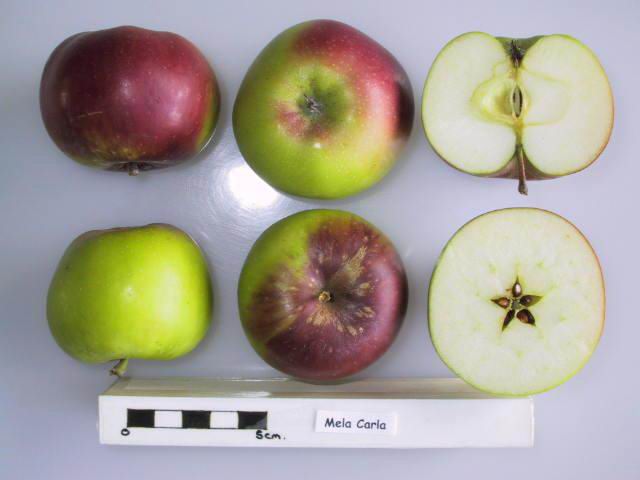 ---
References:

1.

NFC fruit (undated) Unpublished characterisation by staff at NFC, Brogdale.

2.

Smith, M. (1971) National Apple Register