Norfolk Beefing
Culinary apple
Malus domestica Borkh.
Raised in Norfolk, England. It was first recorded in 1807. Fruits have very firm, coarse-textured, juicy flesh which is very acid.
Synonyms:

Beaufin Millemont, Cat's Head, Cat's Head Beaufin, Catshead, Catshead Beaufin, Catshead Beefing, Norfolk Bearer, Norfolk Beau-Fin, Norfolk Beauffin, Norfolk Beaufin, Norfolk Beaufing, Norfolk Beefin, Norfolk Biffin, Norfolk Coleman, Ramsden, Ramsden's, Ramsdens, Read's Baker, Red Beefing, Reed's Baker, Reeds Baker, Schoener von Norfolk, Schoner von Norfolk, Taliesin, Taliesman, Tallesin, Winter Beefing, Winter Coleman, Winter Colman

Availability

Material available from the National Fruit Collection.
Material held in the East of England Apples & Orchards Project
Material held in Tidnor Wood National Collection® of Malus (Cider making)
Material held in the Marcher Apple Network collections (Tredomen)
Accession No.
2000 - 074
Accession name

Norfolk Beefing

Flowering time ›››

8th May

10% flowering


13th May

Full (80%) flowering


21st May

90% petal fall

Picking time

Mid October 1

Size

large 1

Shape

Broad globose conical 1

Height

63.07 mm 1

Width

78.28 mm 1

Ribbing

weak 1

Crown

medium 1

Ground Colour

Green yellow 1

Over Colour

Dark Red 1

Over Colour Amount

medium 1

Over Colour Pattern

striped/solid flush 1

Russet

low 1

Crunch

crisp 1

Coarseness

coarse 1

Juiciness

juicy 1

Flesh Colour

Greenish 1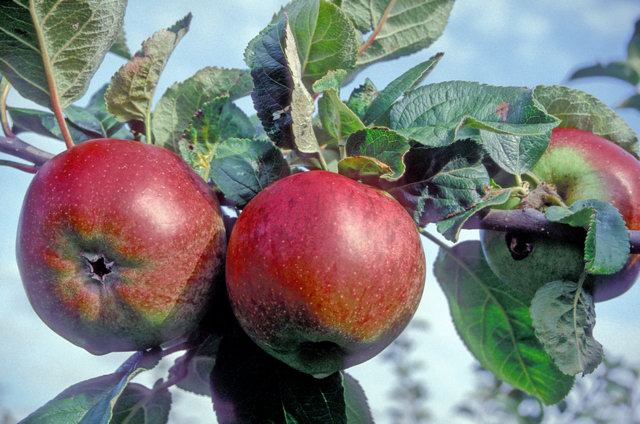 ---
References:

1.

NFC fruit (undated) Unpublished characterisation by staff at NFC, Brogdale.

2.

Smith, M. (1971) National Apple Register