Belle de Boskoop
Culinary / Dessert apple
Malus domestica Borkh.
Triploid. Thought to be a bud sport of Reinette de Montfort. Found by K.J.W. Ottolander, Boskoop, The Netherlands in 1856. Received an Award of Merit from the Royal Horticultural Society in 1897. Fruits have firm, coarse textured flesh with a pleasant, aromatic flavour. Also cooks well.
Synonyms:

Apfel der Zukunft, Bella di Boskoop, Belle de Boscoop, Belle of Boskoop, Boschovo jablko, Boskoop, Boskoopi szep, Boskoopskaya krasavitsa, Boskoopske, Boskoopské rudé, Boskopska hubavita, Boskopskaia krasavita, Boskopskaya krasavitsa, Calvill von Boskoop, Calville de Boskoop, Frumos de Boskoop, Gold Reinette, Goudrenet, Monstrous Reinette, Piekna z Boskoop, Piekna z Boskop, Reinette Belle de Boskoop, Reinette Belle di Boskoop, Reinette de Boskoop, Reinette de Montfoort, Reinette de Montfort, Reinette Monstreuse, Reinette Monstrous, Reinette Monstrueuse, Reinette von Montfort, Renetta di Montfort, Schone van Boskoop, Schone von Boskoop, Schoner aus Boskoop, Schoner van Boskoop, Schoner von Boskoop, Schoone van Boskoop, Schoone von Boskoop

Availability

Material available from the National Fruit Collection.

Mother to:

Sports:
Accession No.
1973 - 169
Accession name

Belle de Boskoop (LA 67A)

Flowering time ›››

2nd May

10% flowering


8th May

Full (80%) flowering


15th May

90% petal fall

Picking time

Early October 1

Size

large 1

Shape

Broad globose conical 1

Height

61.00 mm 1

Width

73.89 mm 1

Ribbing

weak-medium 1

Crown

very weak 1

Ground Colour

Green yellow 1

Over Colour

Orange 1

Over Colour Amount

low 1

Over Colour Pattern

striped/mottled 1

Russet

medium-high 1

Crunch

crisp 1

Juiciness

juicy 1

Flesh Colour

Yellowish 1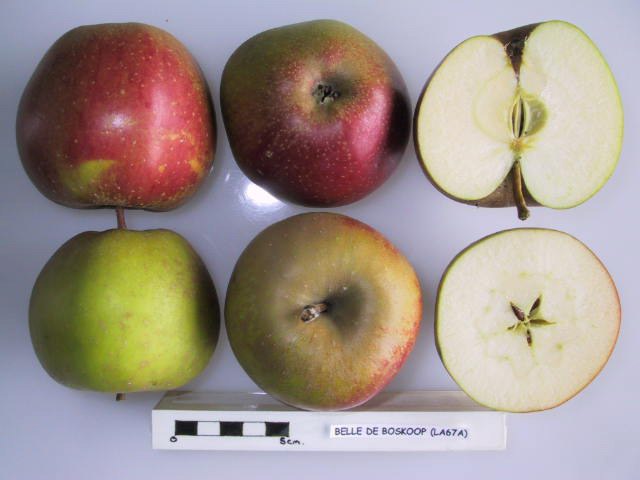 ---
References:

1.

NFC fruit (undated) Unpublished characterisation by staff at NFC, Brogdale.

2.

Smith, M. (1971) National Apple Register