Peasgood's Nonsuch
Culinary apple
Malus domestica Borkh.
Raised by Mrs Peasgood at Stamford, Lincolnshire, England from seed sown in about 1858. Received First Class Certificate from Royal Horticultural Society in 1872. Fruits are a little coarse textured, moderately juicy and a little sweet. Cooks well.
Synonyms:

Gold-Reinette von Peasgood, Goldreinette von Peasgood, Nesravnennoe, Nesravnennoe Pisguda, Niezrdwnane Pisguda, Non Pareille de Peasgood, Peasgood, Peasgood Nonesuch, Peasgood Nonsuch, Peasgood Parotlanja, Peasgood's Goldreinette, Peasgood's Goldrenette, Peasgood's None Such, Peasgood's Nonesuch, Peasgood's Sondergleichen, Peasgood's Unvergleichlicher, Peasgoodova, Peasgoods Goldrenette, Peasgoods Sondergleichen, Reinette dorTe de Peasgood, Reinette Peasgood Nonsuch, Renet auriu de Peasgood, Renet Pisguda, Renet zolotoi Pisguda, Sans, Sans Pareil de Peasgood, Sans Pareille de Peasgood, Sans Pareille Peasgood, Sanspareille de Peasgood, Sanspareille Peasgood

Availability

Material available from the National Fruit Collection.
Material held in the East of England Apples & Orchards Project
Material held in the Marcher Apple Network collections (Donnington)

Parentage:

Catshead x Unknown

Mother to:

Father to:

Sports:
Accession No.
2000 - 075
Accession name

Peasgood's Nonsuch

Flowering time ›››

6th May

10% flowering


11th May

Full (80%) flowering


19th May

90% petal fall

Picking time

Mid September 1

Size

large-very large 1

Shape

Flat 1

Height

75.71 mm 1

Width

95.35 mm 1

Ribbing

very weak 1

Crown

weak 1

Ground Colour

Green yellow 1

Over Colour

Orange 1

Over Colour Amount

low 1

Over Colour Pattern

striped/mottled 1

Russet

low 1

Flesh Colour

Cream 1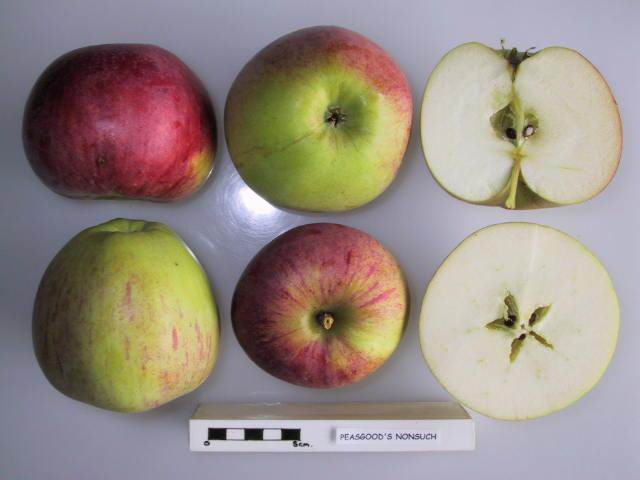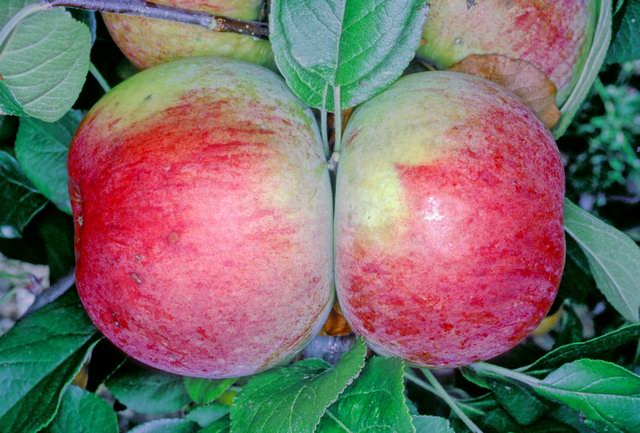 ---
References:

1.

NFC fruit (undated) Unpublished characterisation by staff at NFC, Brogdale.

2.

Smith, M. (1971) National Apple Register