Scarlet Pearmain
Dessert apple
Malus domestica Borkh.
Originated in England. Introduced in about 1800 by Bell, land agent at Sion House, Middlesex. Fruits have firm, crisp, coarse, yellowish flesh with a moderately sweet flavour.
Synonyms:

?French Pippin, Bell's Scarlet, Bell's Scarlet Pearmain, Ecarlate, Ecarlate d'Hiver, Ecarlatine, Englische Scharlach Parmane, Englische scharlach rote Parmane, Englische Scharlach-Parmaene, Englische Scharlachparmaene, Englische Scharlachrote Parmaene, Englische scharlachrothe Parmane, Escarlatine, Hood's Seedling, Hood's Seedling Pippin, Melville Pippin, Oxford Peach, Oxford Peach Apple, Oxford's Peach, Parmaene scarlatto, Parmen krasnii, Parmen Krasnyi, Parmen rosu, Parmen sarlah-rosu, Parmen sharlakhovui, Parmena sarlotova, Parmena szkarlatna, Pearmain Anglaise Ecarlate, Pearmain ecarlate, Pearmain Scarlet, Red Sigles, Safran Krasnii, Scarlet Oxford Peach, Scharlach Parmaene, Scharlach rote Parmane, Scharlachrote Parmaene, Scharlachrote Parmane, Scharlachrothe Parmaene, Scharlachrothe Parmane, Sigler's Red, Sigles Red, Skarbat prios parmen, Sofran rosu de toamna

Availability

Material available from the National Fruit Collection.
Shape

Truncate conical 2

Size

medium 2

Height

54.00mm 2

Width

60.50mm 2

Ribbing

weak-medium 2

Ground Colour

Whitish yellow 2

Over Colour

Red 2

Over Colour (Amount)

high-very high 2

Over Colour (Pattern)

streaked 2

Russet

low 2

Greasiness

Weak 2

Crunch

crisp 2

Coarseness

coarse 2

Flesh Colour

Yellowish 2
Accession No.
1957 - 227
Accession name

Scarlet Pearmain

Flowering time ›››

3rd May

10% flowering


9th May

Full (80%) flowering


16th May

90% petal fall

Picking time

Late September 1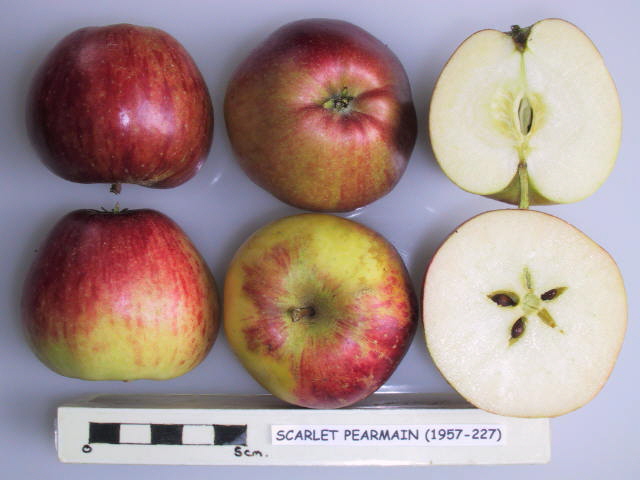 ---
References:

1.

NFC fruit (undated) Unpublished characterisation by staff at NFC, Brogdale.

2.

Smith, M. (1971) National Apple Register