Winter Pearmain
Culinary / Dessert apple
Malus domestica Borkh.
Thought to be a very old English variety. Fruits have firm, crisp, yellowish flesh with a sweet, subacid flavour.
Synonyms:

Duck's Bill, Ducksbill of Sussex, Englische Konig's Pearmain, English Winter Pearmain, Grange's Pearmain, Grauwe of Blanke Pepping van der Laan, Great Pearmain, Great Pearmaine, Hertfordshire Pearmain, Old Pearmain, Old Winter Pearmain, Paremens, Parmain d'Hiver, Peare-Maine, Pearemaine, Pearmain, Pearmain Anglaise d'Hiver, Pepin Parmain d'Angleterre, Pepin Parmain d'Hiver, Pepin Pearmain d'Angleterre, Pepin Pearmain d'Hiver, Peppin Parmain d'Hiver, Peppin-Parmain d'Hiver, Peremenes, Permein Drui d'Angleterre, Permenes, Reinette tres Tardive, Somerset Apple Royal, Striped Winter, Sussex Duck's Bill, Sussex Winter Pearmain, Winter Pearmain (of Sussex), Winter Pearmean, Winter Queening, Winter Quoining, Winterparmane

Availability

Material available from the National Fruit Collection.
Material held in the Marcher Apple Network collections (Tredomen)

Mother to:
Shape

Narrow conical 2

Size

large 2

Height

70.00mm 2

Width

70.00mm 2

Ribbing

strong 2

Ground Colour

Yellow 2

Over Colour

Red 2

Over Colour (Pattern)

streaked 2

Russet

very low 2

Crunch

crisp 2

Flesh Colour

Yellowish 2
Accession No.
1946 - 107
Accession name

Winter Pearmain

Flowering time ›››

29th April

10% flowering


6th May

Full (80%) flowering


13th May

90% petal fall

Picking time

Early October 1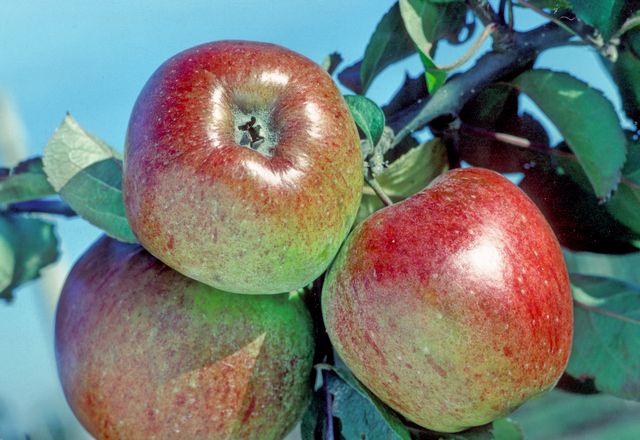 ---
References:

1.

NFC fruit (undated) Unpublished characterisation by staff at NFC, Brogdale.

2.

Smith, M. (1971) National Apple Register