Greensleeves
Dessert apple
Malus domestica Borkh.
Raised in 1966 by Dr Alston, East Malling Research Station, Maidstone, Kent. A prolific and precocious variety. Fruits have crisp, juicy flesh with a mild, refreshing flavour.
Availability

Material in the National Fruit Collection not currently available.
Material held in Tidnor Wood National Collection® of Malus (Cider making)

Parentage:

Father to:
Accession No.
1980 - 077
Accession name

Greensleeves

Flowering time ›››

22nd April

10% flowering


25th April

Full (80%) flowering


4th May

90% petal fall

Picking time

Mid September 1

Size

large 1

Shape

Globose 1

Height

64.68 mm 1

Width

74.34 mm 1

Ribbing

weak 1

Crown

weak-medium 1

Ground Colour

Yellow 1

Over Colour

n/a 1

Over Colour Amount

absent 1

Over Colour Pattern

n/a 1

Russet

low 1

Juiciness

dry 1

Flesh Colour

Cream 1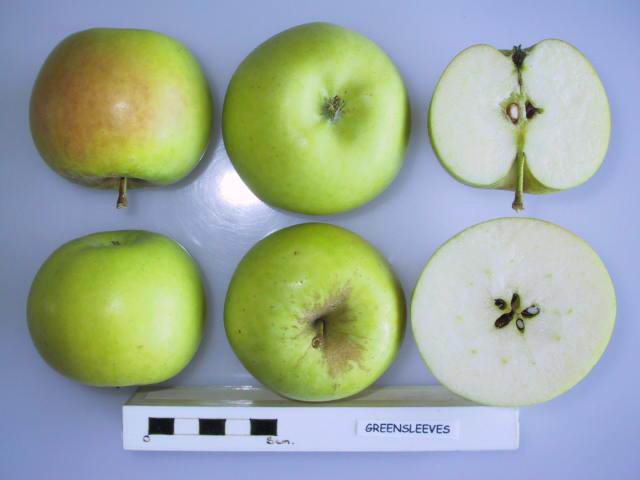 ---
References:

1.

NFC fruit (undated) Unpublished characterisation by staff at NFC, Brogdale.

2.

Smith, M. (1971) National Apple Register