Welcome to the National Fruit Collection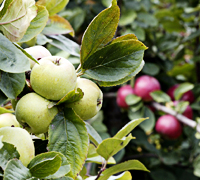 The National Fruit Collection is one of the largest fruit collections in the world and includes over 3,500 named Apple, Pear, Plum, Cherry, Bush fruit, Vine and Cob Nut cultivars. Located at Brogdale Farm, near Faversham (Kent), the collection is owned by the Department for Environment, Food and Rural Affairs (Defra) and is part of an international programme to protect plant genetic resources for the future.
The University of Reading has taken over responsibility for the curation and maintenance of the National Fruit Collection in collaboration with the Farm Advisory Services Team (FAST), who are based at Brogdale Farm. Public access is organised by Brogdale Collections, who are developing the site as a visitor attraction.
Guide to Site Navigation
Search NFC (under development)

As part of the curational work we are developing the National Fruit Collection public access database. The work will be ongoing, but will involve the inclusion of further information obtained during our curational work and the development of searching and ranking tools that will make the data more accessible to the public, as well as to commercial growers and the breeding/research community.
You can search the NFC database for information and photographs of many fruit varieties in the collection, with more information to be added soon.

Commercial Growers

For professional advice on commercial growing see the FAST website.

Brogdale Farm

The Brogdale Collections website has details of forthcoming events and information on visiting Brogdale Farm.
For retail plant sales and details of the other businesses at Brogdale Farm, see Brogdale Market Place.