Alfriston
Culinary apple
Malus domestica Borkh.
Raised in the late 1700s by Mr Shepherd at Uckfield, Sussex and named Shepherd's Pippin. Re-named Alfriston in 1819. Received the Award of Merit from the Royal Horticultural Society in 1920. Fruits are soft, coarse-textured, not very juicy and acid. Cooks well.
Synonyms:

Alfreston, Alfristan, Freen Grove, Green Goose, Lord Gweyder's Newton Pippin, Lord Gwydir's Newton Pippin, Lord Gwydr's Newton Pippin, Lord Gwydr's Newtown Pippin, Lord Gwydyr's Newton Pippin, Lord Gwydyr's Newtown Pippin, Shepherd's Pippin, Shepherd's Seedling, Shepherd's Seedling Pippin, Shepperd's Seedling

Availability

Material available from the National Fruit Collection.
Material held in Tidnor Wood National Collection® of Malus (Cider making)
Material held in the Marcher Apple Network collections (Tredomen)

Mother to:
Shape

Broad globose conical 2

Size

large 2

Height

68.00mm 2

Width

80.00mm 2

Ribbing

medium 2

Over Colour

Orange 2

Russet

very low 2

Coarseness

coarse 2

Flesh Colour

Yellowish 2
Accession No.
1957 - 178
Accession name

Alfriston

Flowering time ›››

5th May

10% flowering


10th May

Full (80%) flowering


17th May

90% petal fall

Picking time

Early October 1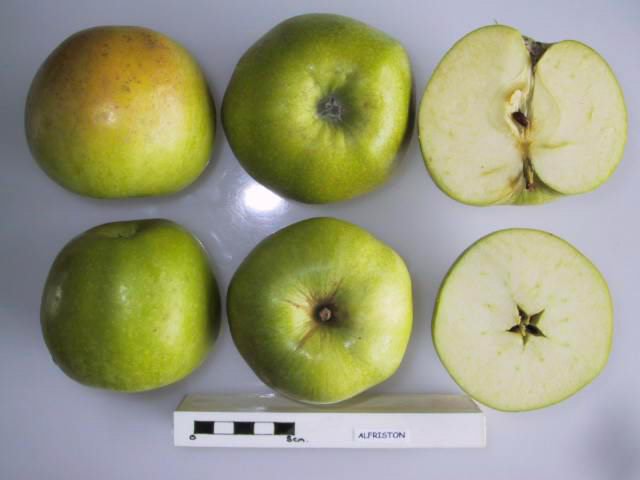 ---
References:

1.

NFC fruit (undated) Unpublished characterisation by staff at NFC, Brogdale.

2.

Smith, M. (1971) National Apple Register