Cox's Orange Pippin
Dessert apple
Malus domestica Borkh.
Raised in about 1825 by Richard Cox at Colnbrook Lawn, Slough, Buckinghamshire and introduced by Charles Turner in about 1850. It received a First Class Certificate from the Royal Horticultural Society in 1962. Fruits are juicy and sweet with a rich, aromatic, nutty flavour.
Synonyms:

Apelsinnyi renet, Aranciata di Cox, Cos Orange, Cox, Cox Narancs Renet, Cox Orange, Cox Orange Pippin, Cox Orangen Pippin, Cox Orangen Reinette, Cox Orangen Renette, Cox' Orangen, Cox' Orangen-renette, Cox's Orange, Cox's Orange Pepping, Cox's Orange Reinette, Cox's Orange-Peppin, Cox's Orange-Pippeling, Cox's Orangen Pippin, Cox's Orangen Reinette, Cox's Orangen-Reinette, Cox's Pomeranzen Pepping, Cox's Pomeranzen-pepping, Coxova Reneta, Kemp's Orange, Kempe's Orange, Koksa Pomaranczowa, Koksova oranjeva reneta, Orange de Cox, Oranjevii renet, Peppeling Cox Orange, Pomaranczowe Coxa, Reinette Cox's Orangen, Reinette Orange, Reinette Orange de Cox, Renet Coksa, Renet Cox Portocaliu, Renet Coxa, Renet Portocaliu, Reneta Coxa pomaranzowa, Russet Pippin, Verbesserte Muscat Reinette, Verbesserte Muscat-Reinette

Availability

Material available from the National Fruit Collection.
Material held in Tidnor Wood National Collection® of Malus (Cider making)
Material held in the Marcher Apple Network collections (Tredomen)

Parentage:

Ribston Pippin x Unknown

Mother to:

Father to:

Sports:
Shape

Truncate conical 2

Size

medium 2

Height

56.00mm 2

Width

62.00mm 2

Ribbing

absent 2

Ground Colour

Yellow 2

Over Colour

Brown 2

Over Colour (Pattern)

striped 2
Accession No.
1966 - 148
A clone of Cox's Orange Pippin. Originated from Long Ashton Research Station, Bristol
Accession name

Cox's Orange Pippin (LA 62D)

Flowering time ›››

8th May

10% flowering


13th May

Full (80%) flowering


20th May

90% petal fall

Picking time

Late September 1

Size

medium 1

Shape

Globose conical 1

Ribbing

absent 1

Crown

weak 1

Ground Colour

Green yellow 1

Over Colour

Brown 1

Over Colour Amount

low 1

Over Colour Pattern

striped 1

Crunch

crisp 1

Flesh Colour

Yellowish 1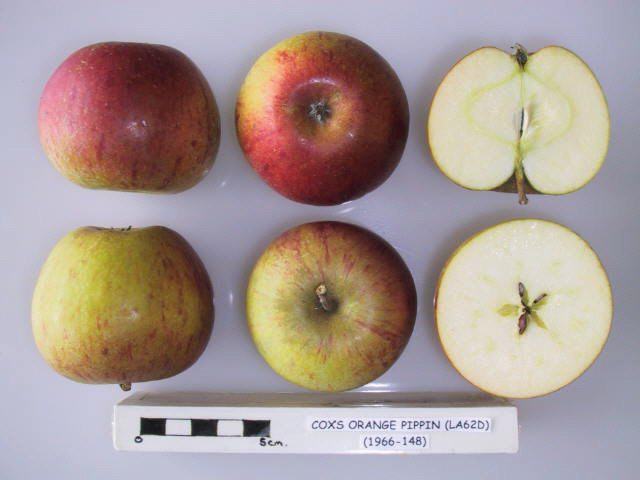 ---
References:

1.

NFC fruit (undated) Unpublished characterisation by staff at NFC, Brogdale.

2.

Smith, M. (1971) National Apple Register
---
More accessions of Cox's Orange Pippin