Devonshire Quarrenden
Dessert apple
Malus domestica Borkh.
Thought to have arisen in Devon, but may have originally come from France. First recorded in 1678. Fruits are sweet, crisp and juicy with a distinctive aromatic flavour.
Synonyms:

Annat Scarlet, Devon Quarrenden, Devon shire Red Quarrenden, Devonshire Quarenden, Devonshire Quarrender, Devonshire Quarrendon, Devonshire Quarrington, Englischer Scharlach Pepping, Englischer Scharlach Roter Sommer Pepping, Englischer Scharlach Sommer Pepping, Englischer Scharlachroter Sommer Pepping, Englisher Scharlach Peppin, Morgenrot Apfel, Morgenrotapfel, Pepin alyi, Pippin Scarlet, Pomme ImpTriale, Quarentine, Quarrenden, Quarrendon du Comite de Devon, Quarrendon du Comte de Devon, Quarrington, Red Quaren den, Red Quarenthe, Red Quarentine, Red Quarrenden, Red Quarrendon, Red Quarringden, Roter Quarrenden, Roter Quarrendon, Sack, Sack Apple, Scarlet Pippin, Scharlach Pepping, Sharlakhovyi pepin, Tsyganka

Availability

Material available from the National Fruit Collection.

Mother to:
Shape

Flat 2

Size

medium 2

Height

32.00mm 2

Width

51.00mm 2

Ribbing

weak-medium 2

Ground Colour

Green yellow 2

Over Colour

Brown 2

Over Colour (Amount)

very high 2

Greasiness

Medium 2

Crunch

crisp 2

Flesh Colour

White 2
Accession No.
1957 - 189
Accession name

Devonshire Quarrenden

Flowering time ›››

3rd May

10% flowering


7th May

Full (80%) flowering


13th May

90% petal fall

Picking time

Mid August 1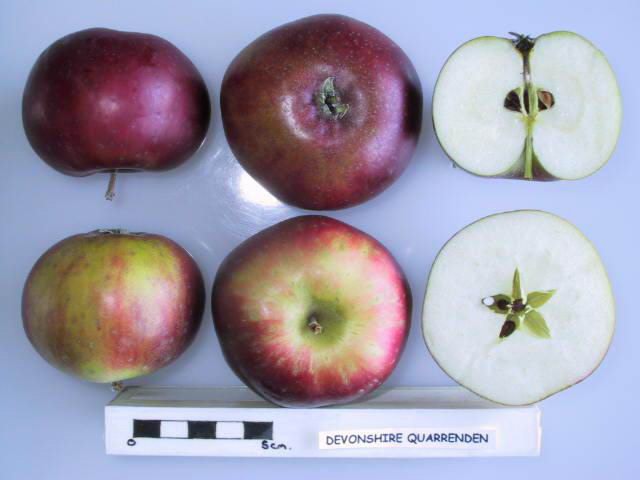 ---
References:

1.

NFC fruit (undated) Unpublished characterisation by staff at NFC, Brogdale.

2.

Smith, M. (1971) National Apple Register