Domnesc
Dessert apple
Malus domestica Borkh.
Thought to be from Iasi, Moldavia, Romania. First recorded in 1831. Fruits have coarse, soft flesh with a fairly acid flavour.
Synonyms:

Basilico, de Moldavie, der Gotterapfel, Dominechti, Dominechty de Moldavie, Domineschta, Domineschter, Domineschti, Domineschty, Domineshty moldavskoe, Dominetscher, Dominisca, Dominiska, Dominiski, Domneschti, Domnesty, Gospodskoe, Goterapfel, Gotter Apfel, Gotterapfel, Grosser Domineschty aus Bender, Hernapfel, Herrapfel, Herrenapfel, Herrnapfel, Moldauer Furstenapfel, Moldauer Gotterapfel, Moldauischer Fuersterapfel, Moldauischer Herrnapfel, Moldavier Gotterapfel, Pomme de Moldavie, Pomme de Seigneur, Vasilico

Availability

Material available from the National Fruit Collection.
Accession No.
1958 - 103
Accession name

Domnesc

Flowering time ›››

29th April

10% flowering


5th May

Full (80%) flowering


11th May

90% petal fall

Picking time

Mid October 1

Size

large-very large 1

Shape

Flat globose 1

Height

70.48 mm 1

Width

87.67 mm 1

Ribbing

weak-medium 1

Crown

medium 1

Ground Colour

Green yellow 1

Over Colour

Orange 1

Over Colour Amount

low-medium 1

Over Colour Pattern

striped/mottled 1

Russet

low 1

Greasiness

Medium 1

Coarseness

coarse 1

Flesh Colour

Yellowish 1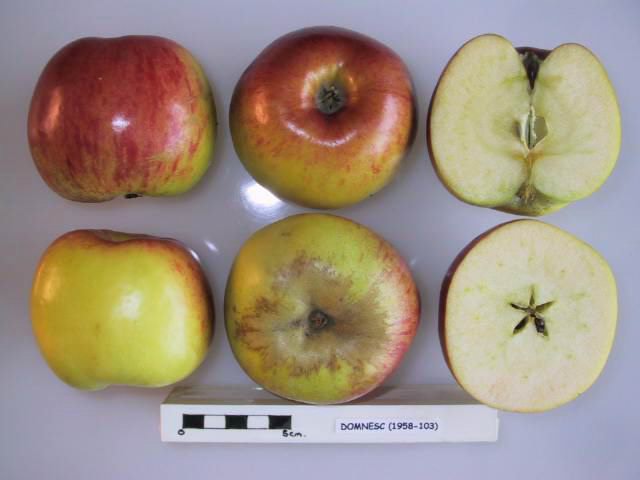 ---
References:

1.

NFC fruit (undated) Unpublished characterisation by staff at NFC, Brogdale.

2.

Smith, M. (1971) National Apple Register