Entz-Rosmarin
Dessert apple
Malus domestica Borkh.
Originated with pomologist Entz, Hungary or could be older. It was named by Bereczki in 1860. Fruits have fine, tender flesh with a subacid and sweet flavour.
Synonyms:

Dulce-amarui, Entz Rosmarin, Entz Rozmarin, Entz Rozmaring, Entz's Rosmarin, Honti alma, Husveti Rosmarin, Husveti rozmarin, Romarin d'Entz, Teli czitrom alma, Teli czitrom-alma

Availability

Material available from the National Fruit Collection.
Accession No.
1948 - 374
Accession name

Entz-Rosmarin

Flowering time

tree 1

›››

7th May

10% flowering


11th May

Full (80%) flowering


17th May

90% petal fall

Picking time

tree 1

mid october 1

Size

tree 2

large 1

Shape

tree 2

Oblong conical 1

Height

tree 2

71.95 mm 1

Width

tree 2

70.15 mm 1

Ribbing

tree 2

weak-medium 1

Crown

tree 2

medium 1

Ground Colour

tree 2

Whitish yellow 1

Over Colour

tree 2

Red 1

Over Colour Pattern

tree 2

mottled/washed out 1

Russet

tree 2

low 1

Greasiness

tree 2

Strong 1

Coarseness

tree 2

fine 1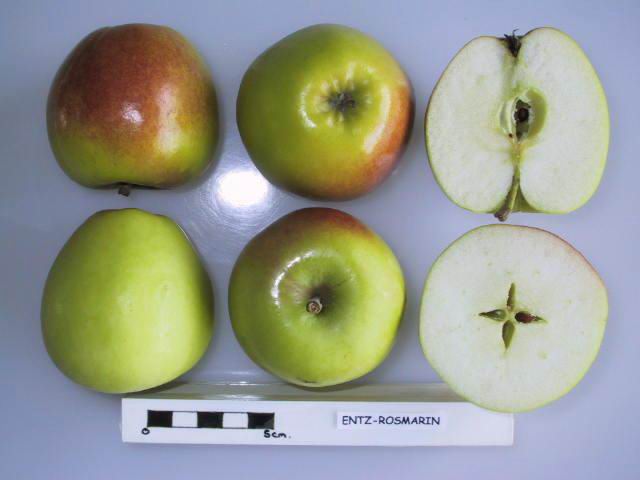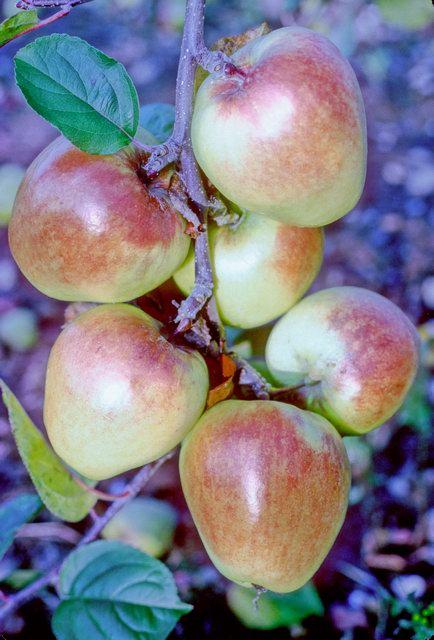 ---
References:

1.

NFC fruit (undated) Unpublished characterisation by staff at NFC, Brogdale.

2.

Smith, M. (1971) National Apple Register
---
More accessions of Entz-Rosmarin