Golden Noble
Culinary apple
Malus domestica Borkh.
Discovered by Patrick Flanagan, head gardener to Sir Thomas Harr, Stowe Hall, Downham, Norfolk. It was mentioned by William Forsyth in 1803. It was introduced by Patrick Flanagan to the Horticultural Society of London in 1820. Fruits are a little soft, fairly fine-textured, very juicy, and acid. Cooks extremely well, breaking up completely.
Synonyms:

Blagorodnoe zheltoe, Drap d'Or, Edelapfel gelbe, Edelapfel gelber, Galben Nobil, Gelber Edel, Gelber Edel Apfel, Gelber Edelapfel, Gelber Schneibenapfel, Glassapfel, Glassreinette, Glow of the West, Golden Stanger, Golden Stranger, Gough's Seedling, Guldnobel, Ivanhoe, Jioltoe blagorodnoe, John Peel, Lady Richardson, Lord Clyde, Lord Glyde, Lord Stanwick, Mela nobile gialla, Peper's Fall, Plattapfel, Reper's Fall, Rutlandshire Foundling, Szlachetna, Terraughtie Short Meg, UslechtilT zlute, Wachsapfel, Zheltoe blagorodnoe, Zitronenapfel, Zlute spanile, Zlute uclechtile

Availability

Material available from the National Fruit Collection.
Material held in the East of England Apples & Orchards Project
Material held in the Marcher Apple Network collections (Donnington)

Father to:
Accession No.
1974 - 407
Accession name

Golden Noble

Flowering time ›››

10th May

10% flowering


16th May

Full (80%) flowering


24th May

90% petal fall

Picking time

Early October 1

Size

large 1

Shape

Globose conical 1

Height

65.30 mm 1

Width

75.98 mm 1

Ribbing

very weak 1

Crown

weak 1

Ground Colour

Yellow 1

Over Colour

n/a 1

Over Colour Amount

absent 1

Over Colour Pattern

n/a 1

Russet

low 1

Crunch

crisp 1

Coarseness

coarse 1

Flesh Colour

Cream 1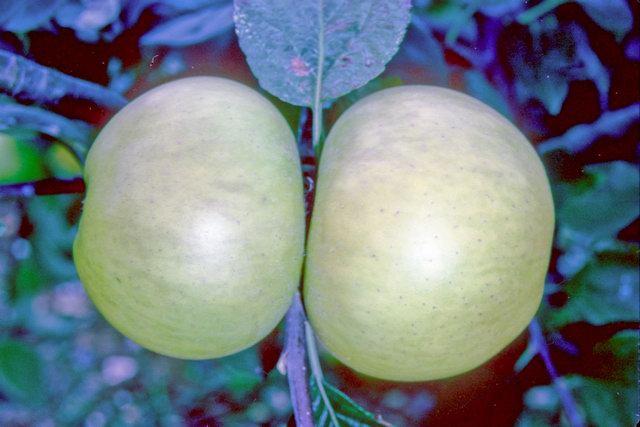 ---
References:

1.

NFC fruit (undated) Unpublished characterisation by staff at NFC, Brogdale.

2.

Smith, M. (1971) National Apple Register