Golden Pippin
Dessert apple
Malus domestica Borkh.
Originated in England. It was recorded in 1629. Fruits have firm, crisp flesh with a sweet, subacid and rich flavour.
Synonyms:

American Plat, American Plate, Angliiskii pepin, Balgone Golden Pippin, Balgone Pippin, Balgowan, Balgowan Pippin, Balgown, Balgown Pippin, Barford, Barrod Pippin, Bayforbury, Bayford, Bayfordbury Golden Pippin, Bayfordbury Pippin, d'Or, Elford Golden Pippin, Engelsche Goud pepping, Engelse Goud Pepping, Englis'cher Goldpepping, Englische gelbe Pipe, Englische Reinette, Englischer Gold Pepping, Englischer Gold-Pepping, Englischer Goldpepping, English Golden Pippin, English Goud Pepping, English Reinette, Englishce Goud-Pepping, Franc-Pepin, Fry's Golden Pippin, Gale-Pepin, Gelbe Englische Pipe, Gol-Pepin, Gold Pepping, Goldpepping, Goud, Goud Appel, Goud Apple, Goud Pepping, Goudappel, Goudeling's Pepping, Goudelings Peppin, Gouden Pippeling, Gould-Pippin, Goulden Pippins, Goule-Pepin, Gulden Pepping, Gulden Pipping, Guolden Peppins, Guolden Peppius, Herefordshire Golden Pippin, Kleiner Gold Pepping, Kleiner Goldpepping, Koening's Peppelin, Koening's Pippelin, Koening's Pippeling, Konig's Pippelin, Konig's Pippeling, Koning's Pepelin, Koning's Pippelin, Krymskoe zolotoe semechko, Latour's Golden Pippin, le Petit Pepin d'Or, Litle Pepping, Little Pepping, Little Pippin, London Golden Pippin, Milford Pippin, Milton Golden Pippin, Old Golden Pippin, Pepin d'Angleterre, Pepin d'Or, Pepin d'Or (le petit), Pepin d'Or d'Angleterre, Pepin Dore d'Angleterre, Pepin Nonpareil, Pepin zolotoi angliiskii, Pepinnonpareil, Peppelings, Pepping d'Angleterre, Pepping d'Or, Pepping Nonpareil, Petit Pepin d'Or, Petit Pepping, Petit Pepping d'Or, Petite-Reinette d'Angleterre, Pippin, Pippin d'Or, Plate America, Pomme d'Or, Pomme d'Or d'Angleterre, Reinette d'Angleterre, Reinette d'Angleterre Ancienne, Reinette d'Or, Reinette Doree, Reinette Doree d'Angleterre, Reinette Doree de Vitry, Reinette Grise Doree, Reinette Jaune Tardive, Reinette Pepin Dore, Reinette Pomme d'Or, Rousse-Jaune Tardive, Rousset Golden Pippin, Russet Gold Pippin, Russet Golden Pippin, Small Golden Peppin, Small Golden Pippin, Small Goldin Pippin, Small Golding Pippin, True Golden Pippin, Warter's Golden Pippin, Warters's Golden Pippin, Water's Golden Pippin

Availability

Material available from the National Fruit Collection.
Material held in Tidnor Wood National Collection® of Malus (Cider making)

Mother to:

Father to:
Accession No.
1946 - 024
Accession name

Golden Pippin (Miller)

Flowering time ›››

5th May

10% flowering


10th May

Full (80%) flowering


18th May

90% petal fall

Picking time

Early October 1

Size

small 1

Shape

Flat globose 1

Ribbing

weak 1

Crown

absent 1

Ground Colour

Yellow 1

Over Colour

Orange 1

Over Colour Amount

absent 1

Over Colour Pattern

washed out 1

Russet

low-medium 1

Crunch

crisp 1

Flesh Colour

White 1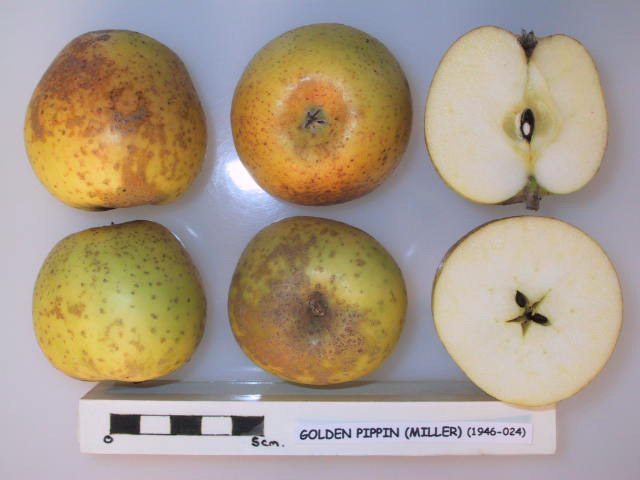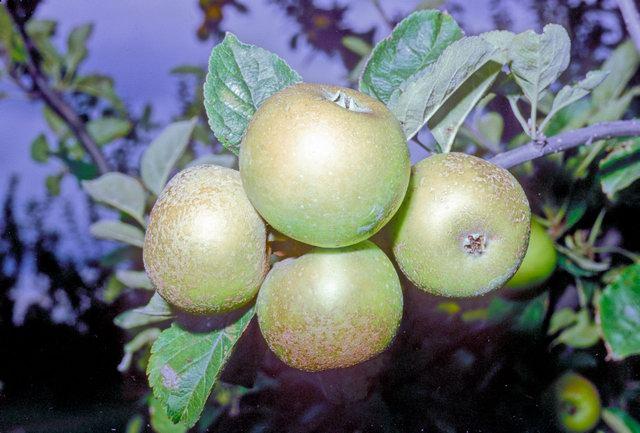 ---
References:

1.

NFC fruit (undated) Unpublished characterisation by staff at NFC, Brogdale.

2.

Smith, M. (1971) National Apple Register