London Pippin
Culinary apple
Malus domestica Borkh.
Originated in either Essex or Norfolk. It was recorded in 1580. Fruits have crisp, white, acid flesh.
Synonyms:

Bastard Calvill, Bastard Kalvil, Bastard-Calvill, Bastard-Calville, Calville de Londres, Calville de Stafa, Calville du Haire, Calville du Roi, Citron d'Hiver, de Londres, Fine Crown Pippin, Five Crown, Five Crown Pippin, Five Crowned Peppin, Five Crowned Pippin, Five-Crown Pippin, Five-Crowned Pippin, Galibro Pippin, Grosse Reinette de Londres, Grune Englischer Calvill, Gruner Englischer Calvill, Jadrnac Londynsky, Kalvil Jioltii, Kalvil korolevskii, Kalvil Limonni, London, London Golden Pippin, London Peppin, London Pepping, London-Pepping, Londoner Grosse Reinette, Londoner Pepping, Londoni Pepin, Londonski pepin, Londynske, Londynsky Jadernac, Lounden Peppen, New London Pippin, New-London Pippin, Old London Pippin, Pepin de Londres, Pepin londonskii, Pepina Londynska, Peppin de Londres, Pippin de Londres, Pomme de Londres, Popina londynska, Poppina di Londra, Reinette de Londres, Royal Somerset, Selvatica di Londra, Statner Calviller, Werderscher Kalvill, White London Pippin, White Pippin, Winter Citronenapfel

Availability

Material available from the National Fruit Collection.

Father to:
Accession No.
1951 - 341
Accession name

London Pippin

Flowering time ›››

10th May

10% flowering


15th May

Full (80%) flowering


24th May

90% petal fall

Picking time

Mid October 1

Size

large 1

Shape

Broad globose conical 1

Ribbing

weak-medium 1

Crown

strong 1

Ground Colour

Yellow 1

Over Colour

Red 1

Over Colour Amount

very low 1

Over Colour Pattern

washed out 1

Crunch

crisp 1

Flesh Colour

White 1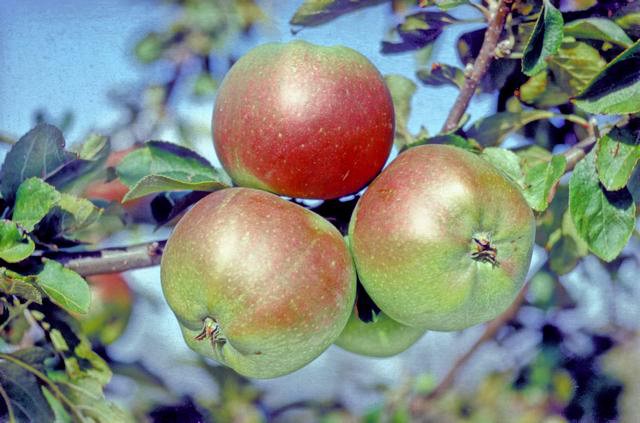 ---
References:

1.

NFC fruit (undated) Unpublished characterisation by staff at NFC, Brogdale.

2.

Smith, M. (1971) National Apple Register