Mere de Menage
Culinary apple
Malus domestica Borkh.
Known in the late 1700s. Fruits have firm, greenish, rather coarse-textured and rather dry flesh with an acid flavour.
Synonyms:

Bellefleur de France, Brietling, Burton's Beauty, Capp Mammoth, Combermere, Combermere Apple, Dame de Menage, de Livre, Der Gelbe Tellerapfel, Femme de Menage, Femme-de-Menage, Flander's Pippin, Flanders Pippin, Flanders' Pippin, Gelbe Tellerapfel, German Spa, Gloria Mundi, Gros Rambour d'Hiver, Gros Rambour Wildling, Gros-Rambour d'Hiver, Grosser Pfund Rambour, Grosser Pfund Rambour Wildling, Grosser Rambour, Hans Mutterchen, Hansmutterchen, Harlow Pippin, Haus Mutterche, Haus Mutterchen, Hausmutterche, Hausmutterchen, Hounslow Seedling, Husmoder, Husmodersapple, Khozyayushka, la Menagere, Libra, Livre, Lord Combermere, Menage, Menagere, Menagerie, Mere-de-Menage, Monstreuese de Nikita, Monstrueuse de Nikita, Monstrueuse de Nykita, Pfund, Pfund Rambour-Wildling, Pomme de Livre, Queen Emma, Rambour d'Amerique, Rambour Gos, Red German, Reisenapfel, Riesen- Apfel, Riesenapfel, Teller, Winter Colmar

Availability

Material available from the National Fruit Collection.
Material held in the Marcher Apple Network collections (Tredomen)
Shape

Broad globose conical 2

Size

large 2

Height

75.50mm 2

Width

90.50mm 2

Ribbing

medium-strong 2

Ground Colour

Whitish yellow 2

Over Colour

Red 2

Over Colour (Pattern)

striped 2

Russet

very low 2

Coarseness

coarse 2

Juiciness

dry 2

Flesh Colour

Cream 2
Accession No.
2000 - 067
Accession name

Mere de Menage

Flowering time ›››

6th May

10% flowering


10th May

Full (80%) flowering


18th May

90% petal fall

Picking time

Early October 1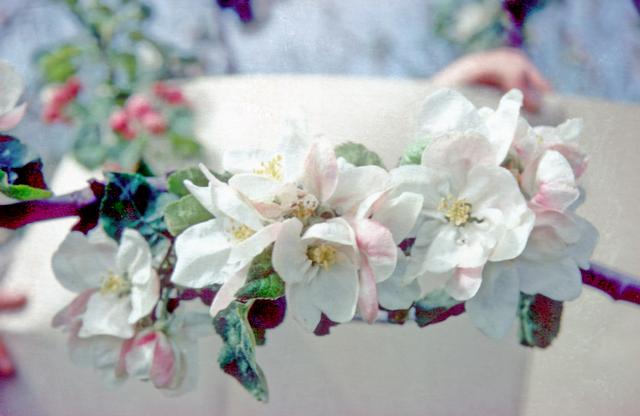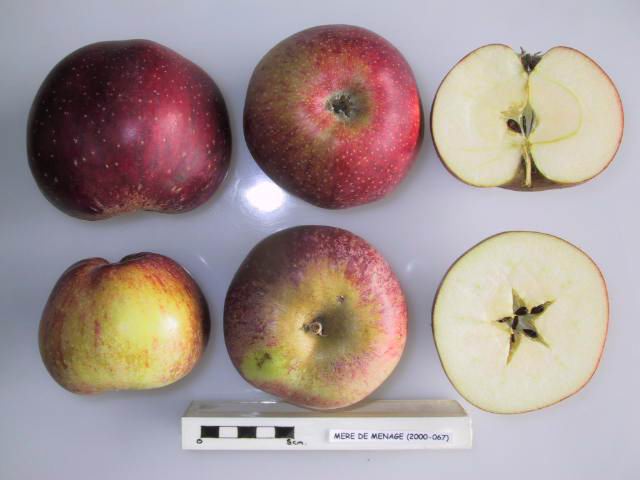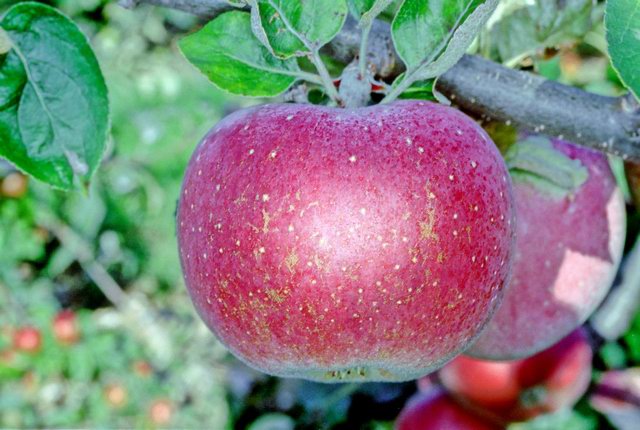 ---
References:

1.

NFC fruit (undated) Unpublished characterisation by staff at NFC, Brogdale.

2.

Smith, M. (1971) National Apple Register