Ortley
Dessert apple
Malus domestica Borkh.
Originated in New Jersey, USA in the orchard of Michael Ortley. Described in 1817 as Woolman's Long Pippin. Re-named Ortley in 1825. In 1872, the commercial synonym Cleopatra came into use. Fruits have tender, very juicy flesh with a pleasant mild flavour. Fruits bruise easily. Tree tends to be biennial.
Synonyms:

Cleo, Cleopatra, Crane's Pippin, Davis, Davis White Belleflower, Davis White Bellflower, Detroit, Detroit of the West, Golden Pippin, Greasy Pippin, Green Bellflower, Hollow Core Pippin, Hollow Cored Pippin, Hollow-cored Pippin, Inman, Jersey Greening, Marrow Pippin, Melting Pippin, Ohio Favorite, Ohio Favourite, Oregon Ortley, Ortley Apple, Ortley Pippin, Otley, Tod's Golden Pippin, Todd's Golden Pippin, Tom Woodward Pippin, Tom Woodward's Pippin, Van Dyme, Van Dyne, Warren Pippin, White Belle-Fleur, White Bellefleur, White Belleflower, White Bellflower, White Detroit, White Pippin, White Seek-no Further, Willow Leaf Pippin, Wolman's Long, Woodman's Long, Woodman's Song, Woodward's Pippin, Woolman's Long, Woolman's Long Pippin, Woolnary Long, Yellow Pippin

Availability

Material available from the National Fruit Collection.
Accession No.
1950 - 121
Accession name

Ortley

Flowering time ›››

7th May

10% flowering


12th May

Full (80%) flowering


19th May

90% petal fall

Picking time

Late October 1

Size

large 1

Shape

Globose conical 1

Height

68.47 mm 1

Width

71.53 mm 1

Ribbing

weak 1

Crown

very weak 1

Ground Colour

Yellow 1

Over Colour

n/a 1

Over Colour Amount

absent 1

Over Colour Pattern

n/a 1

Russet

very low 1

Greasiness

Medium 1

Crunch

crisp 1

Coarseness

fine 1

Juiciness

juicy 1

Flesh Colour

Yellowish 1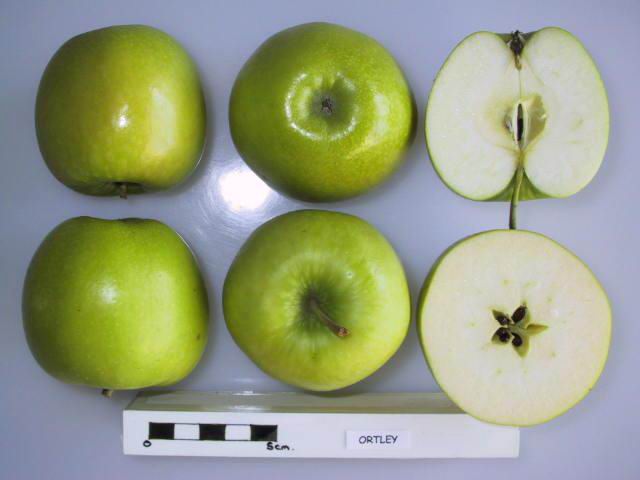 ---
References:

1.

NFC fruit (undated) Unpublished characterisation by staff at NFC, Brogdale.

2.

Smith, M. (1971) National Apple Register