Red Astrachan
Culinary / Dessert apple
Malus domestica Borkh.
Originated from Russia. It first fruited in the UK in 1816. Fruits have firm, crisp, fairly juicy flesh with a sweet and fair flavour.
Synonyms:

Abe Lincoln, American Red, American Rouge, Anglese Pippin, Anglesea Pippin, Astracan, Astracan rosso, Astracan Rouge, Astrachan, Astrachan cerveny, Astrachan Red, Astrachan Rouge, Astrachanskoe Krasnoe, Astrahan Rosu, Astrahanskoe Krasnoe, Astrakan, Astrakan Rouge, Astrakhan, Astrakhan Rouge, Asztrahani piros, Beauty of Wales, Carmin de Juin, Castle Leno Pippin, Cerven Astrahan, d'Astracan, d'Astracan rouge, der rote astrachanische Sommerapfel, der rothe Astrachanische Sommerapfel, Deterding's Early, Deterling's Early, Duke of Devon, Hamper's American, Kaiserlicher Calvill, Krasnoe astra hanskoe, Olivka Krasnaya, Oliwka czerwona, Pomeroy, Pomme d'Astracan Rouge, Rau Astrakan, Red Astracan, Red Astrachan Apple, Red Astrakhan, Rod Astrakan, Rod Astrakaner, Roda Astrakanska, Rode Astrakan, Roode Astrachaner, Roter Astrachan, Rother Astracan, Rother Astrachan, Rother Astrakan, Rother Astrakhan, Rouge d'Astrachan, Rouge Hative, The Red Astrachan Apple, Transparent Rouge, Transparente Rouge, Vermilion d'Ete, Vermillon d'Ete, Waterloo

Availability

Material available from the National Fruit Collection.

Mother to:

Father to:
Shape

Broad globose conical 2

Size

medium 2

Ribbing

weak 2

Ground Colour

Whitish yellow 2

Over Colour

Red 2

Over Colour (Amount)

high-very high 2

Russet

very low 2

Coarseness

coarse 2

Flesh Colour

Greenish 2
Accession No.
1999 - 084
Accession name

Red Astrachan

Flowering time ›››

26th April

10% flowering


1st May

Full (80%) flowering


9th May

90% petal fall

Picking time

Early August 1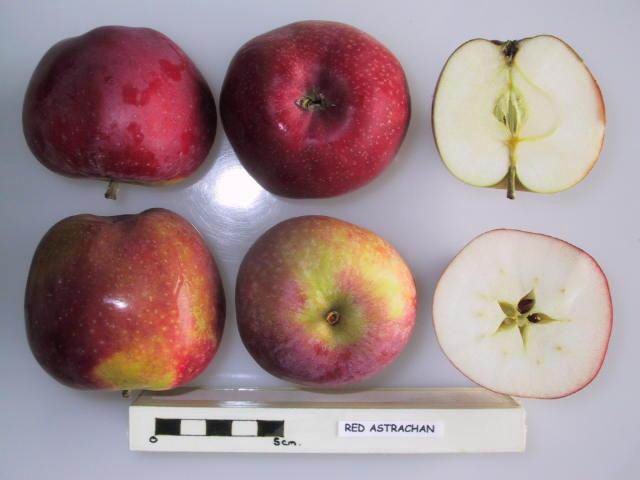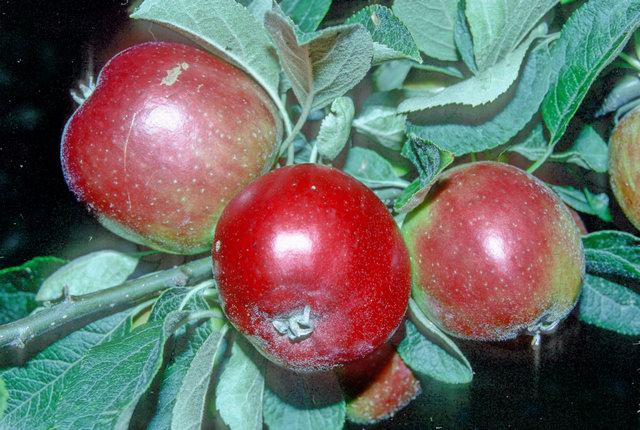 ---
References:

1.

NFC fruit (undated) Unpublished characterisation by staff at NFC, Brogdale.

2.

Smith, M. (1971) National Apple Register