Reinette de Champagne
Culinary apple
Malus domestica Borkh.
Originated in about 1770 in Champagne, France. Fruits have firm, crisp, rather dry, greenish white flesh with a slightly sweet, slightly subacid flavour.
Synonyms:

Bien Attachee, Bovinski, Bumazhnyi renet, Champagne, Champagnei Renet, Champagner, Champagner Reinette, Champagner Renette, Champagner-Reinette, Champaigne Reinette, Drei Jahr dauernder Mutterapfel, Drei Jahre dauern der Mutterapfel, Furstlicher Tafelapfel, Gebirgs-Taffetiner, Glas Apfel, Glas Reinette, Glas-Reinette, Glasapfel, Glattapfel, Herrenapfel, Herrnapfel, Jahrapfel, Kapuziner, KapuzinerApfel, Kasapfel, Laskrieger, Loskrieger, Loskriger, Mariedl-Apfel, Marien-Apfel, Niederlandische Weisse Reinette, Pomme bien Attache, Pomme bien attachee, Rabenapfel, Reinette Bien Attachee, Reinette Blanche de Champagne, Reinette de France, Reinette de Friesland, Reinette de Frisland, Reinette de Versailles, Reinette Frisland, Reinette Plate de Champagne, Reinette von Versailles, Renet Bespodobnyi, Renet Bezpodobnii, Renet bumajhnyi, Renet Bumajnii, Renet de Champagne, Renet Sampanskii, Renet Sampanskij, Reneta Sampanska, Reneta Szampanska, Sampanska Reneta, Sampanskii renet, Schmalzapfel, Silberapfel, Soskrieger, Taffetapfel, Taffetinerapfel, Wachsrenette, Weissapfel, Weisse Versailler Reinette, Weisser Zwiebelapfel, Zweijahrling, Zwiebelapfel

Availability

Material available from the National Fruit Collection.
Shape

Flat 2

Size

medium-large 2

Height

57.50mm 2

Width

73.50mm 2

Ribbing

medium 2

Ground Colour

Green yellow 2

Over Colour

Pink 2

Over Colour (Amount)

low 2

Russet

low 2

Greasiness

Weak 2

Crunch

crisp 2

Juiciness

dry 2

Flesh Colour

Greenish 2
Accession No.
1948 - 667
Accession name

Reinette de Champagne

Flowering time ›››

9th May

10% flowering


15th May

Full (80%) flowering


22nd May

90% petal fall

Picking time

Late October 1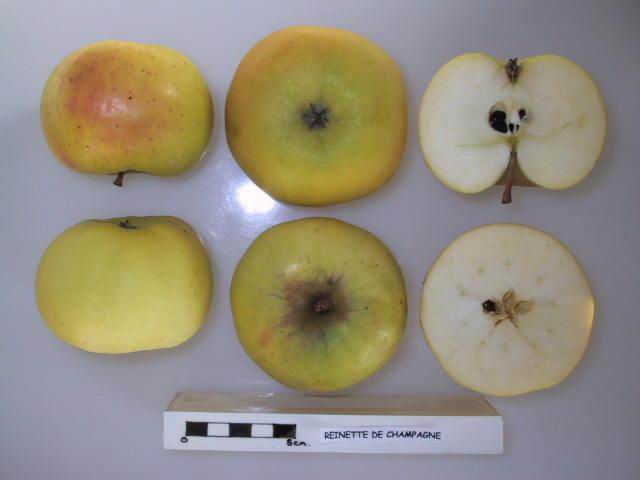 ---
References:

1.

NFC fruit (undated) Unpublished characterisation by staff at NFC, Brogdale.

2.

Smith, M. (1971) National Apple Register