Reinette du Canada
Culinary / Dessert apple
Malus domestica Borkh.
Triploid. Thought to have probably originated in Normandy, France. First mentioned in 1771. Received the Award of Merit from the Royal Horticultural Society in 1901. Fruits have firm, rather coarse-textured, somewhat dry flesh with a sweet and moderate fl
Synonyms:

Amerikanischer Romanite, Angleterre Grosse, Bamporta, Bamposta, Bemposta, Canada, Canada Blanc, Canada blanc (Creuse), Canada Pippin, Canada Reinette, Canada Renet, Canadai Renet, Canadarenett, Canadian Reinette, Canadisk Reinet, Canadisk Reinette, Cerina di Roma, de Bretagne, de Caen, de Canada, Die Haarlemer Reinette, Die Weiberrei nette, Dittrich's Pracht Reinette, du Canada, Forbes's Large Portugal, Francouzka Reneta, German Green, Gold Reinette, Grose Reinette d'Angleterre, Grosse d'Angleterre, Grosse Englische Reinette, Grosse Goldreinette, Grosse Reinette d'Angleterre, Grosse Reinette du Canada, Grosse Reinette Sts du Canada, Grosse- Reinette d'Angleterre, Grosse-Reinette du Canada, Harlemer Reinette, Hollandische Reinette, Jablko kminove sede, Januarea, Janura, Janurea, Kaiser-Reinette, Kanada, Kanada Reinette, Kanadai Renet, Kanadarenett, Kanadska Reneta, Kminova reneta, Macas d'Espalis, Mala Janura, Mala Janurea, Mela Januera, Mela Janurea, Mela Januria, Michael Henry Pepping, Murner Reinette, Oesterreichische National Reinette, Oestreichische National Reinette, Osterreichische National Reinette, Parieser Rambour Reinette, Pariser Rambour, Pariser Rambour Reinet, Pariser Rambour Reinette, Pariser Rambour renett, Pariser Rambour-Reinette, Parizka Ramburova Reneta, Parizska Ramburova Reneta, Pomme de Bretagne, Pomme de Caen, Pomme du Caen, Pomme du Canada, Pomme Madame, Portugal, Portugal Apple, Portugal Russet, Pracht Reinette, Praire Rambour Reinette, Rambour de Paris, Reinette a Cotes, Reinette Blanche du Canada, Reinette Canada, Reinette d'Andilly, Reinette d'Angleterre, Reinette de Bretagne, Reinette de Caen, Reinette de Canada, Reinette de Canada a Cotes, Reinette de Canada Blanche, Reinette de Portugal, Reinette du Caen, Reinette du Canada a Cortes, Reinette du Canada a Cotes, Reinette du Canada à Côtés, Reinette du Canada a'Cortes, Reinette du Canada Blanc, Reinette du Canada Blanche, Reinette Grandville, Reinette Grise d'Automne, Reinette Grise du Canada, Reinette Grose de Canada, Reinette Grosse d'Angleterre, Reinette Grosse de Angleterre, Reinette Grosse de Canada, Reinette Grosse du Canada, Reinette Incomparable, Reinette Monstreuse de Canada, Reinette Monstreuse du Canada, Reinette Monstrueuse du Canada, Reinette Virginale, Reinette von Canada, Reinette Wahre, Reinette Whare, Reinette Windsor, Renet de Canada, Renet Kanadskii, Reneta Kanadyiska, Reneta Kminova, Renetta del Canada, Renette Grosse de Angleterre, Riegel Reinette, Rumelin's Reinette, Rumelins Reinette, Russian Portugal, Saint-Helena Russet, Saint-Helene Russet, Sainte Helena, Sainte-Helena, St. Helena Russet, Stern Reinette, Stern-Reinette, Sternreinette, Surpass Reinette d'Angleterre, Surpasse Reinette d'Angleterre, Unvergleichliche Reinette, Wahr Reinette, Wahre Reinette, Weibe Reinette, Weiber Reinette, Weiberreinette, Weisse Antillische Reinette, Weisse Antillische Winter Reinette, Weisse Atillische, Wesse Antillische Winterreinette, White Pippin, Windsor Reinette, Windsor-Reinette

Availability

Material available from the National Fruit Collection.
Material held in Tidnor Wood National Collection® of Malus (Cider making)
Material held in the Marcher Apple Network collections (Tredomen)
Accession No.
1948 - 661
Accession name

Reinette du Canada

Flowering time ›››

7th May

10% flowering


13th May

Full (80%) flowering


20th May

90% petal fall

Picking time

mid october 1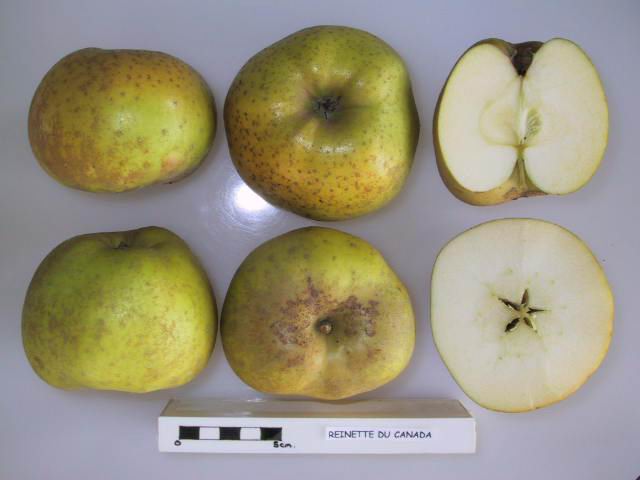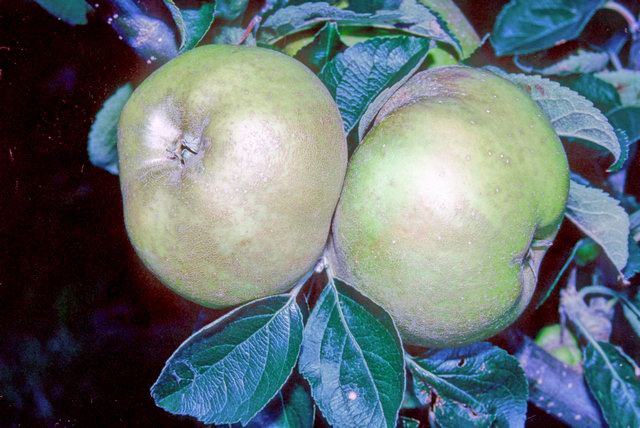 Accession No.
2001 - 125
Accession name

Reinette du Canada

Flowering time ›››

8th May

10% flowering


14th May

Full (80%) flowering


21st May

90% petal fall

Picking time

Mid October 1

Size

large 1

Shape

Flat globose 1

Ribbing

medium 1

Crown

weak-medium 1

Ground Colour

Green yellow 1

Over Colour

Orange 1

Over Colour Amount

very low 1

Over Colour Pattern

washed out 1

Russet

medium-high 1

Greasiness

Weak 1

Crunch

crisp 1

Flesh Colour

White 1
---
References:

1.

NFC fruit (undated) Unpublished characterisation by staff at NFC, Brogdale.

2.

Smith, M. (1971) National Apple Register