Reinette Marbree
Dessert apple
Malus domestica Borkh.
Originated in the Netherlands. Described in 1760. Fruits have compact, firm, whitish flesh with a very sweet and perfumed flavour.
Synonyms:

a Caracteres, Character, Character Apple, Character of Drap d' Or, Characterreinette, Charakter Reinette, Charakter-Reinette, Cimetiere, Concombre des Chartreux, de SaintJulien, Drap d'Or, Gestrichte Herbst-Reinette, Gestrickte Herbst Reinette, Gestrickte Reinette, Heilige Julian's Apfel, Julien, Karakter Reinette, Neetjes Apple, Netz Reinette, Pomme de Caractere, Pomme de Saint-Julien, Pomme de St. Julien, Reinette Brodee, Reinette Caractere, Reinette de Caractere, Reinette Drap d'Or, Reinette Filee, Reinette Valkenier, Saint Julian, Seigneur d'Orsay

Availability

Material available from the National Fruit Collection.
Accession No.
1947 - 195
Accession name

Reinette Marbree

Flowering time ›››

8th May

10% flowering


13th May

Full (80%) flowering


20th May

90% petal fall

Picking time

Mid October 1

Size

medium 1

Shape

Globose conical 1

Ribbing

weak-medium 1

Crown

weak 1

Ground Colour

Whitish yellow 1

Over Colour

n/a 1

Over Colour Amount

absent 1

Over Colour Pattern

n/a 1

Russet

medium-high 1

Greasiness

Weak 1

Flesh Colour

Yellowish 1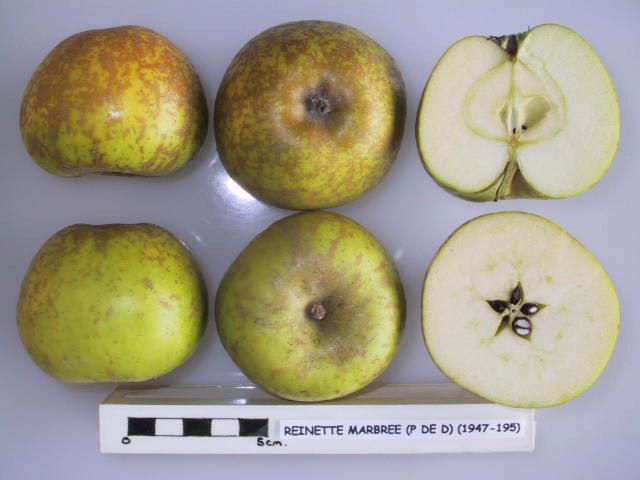 ---
References:

1.

NFC fruit (undated) Unpublished characterisation by staff at NFC, Brogdale.

2.

Smith, M. (1971) National Apple Register