Roter Eiserapfel
Dessert apple
Malus domestica Borkh.
Originated in Germany in the early 1700s. Fruits have very hard, fine, creamy white flesh with a sweet, subacid flavour.
Synonyms:

Arsapple, Bamberger, Braunsilien apfel, Braunsilienapfel, Cristapfel, der rothe drei Jahre dauernde Streifling, Doppelder Paradiesapfel, Doppelter Paradies, Drei Jahr dauernder Mutterapfel, Drei Jahr dauernder Streifling, Drei Jahre dauern der Streifling, Drei Jahre dauernder, Durable Trois Ans, Duracinum acido dulce, Eiser, Eiser rote, Eiser Rouge, Elizer rosu, Erythromelum diu durans, Fier rosu, Fragone, Herzapfel, Hunt's Royal Red, Jarnapple, Jeptiska, Kalusapfel, Kloserapfel, Kloster Apfel, Kohlapfel, Krasnii jelesniak, Krasnoe Aizera, Krasnoe sivera, Krasnoe zheleznoe, Krasnyi zheleznyak, Mahrenholz, Mela Dura Rossa, Mohrenbordorfer, Mohrenborsdorder, Mohrenkopf, Mohrenstettiner, Nagelsapfel, Paradies Apfel, Paradiesapfel, Pomme Eiser Rouge, Pomme rouge ravee, Rageleapfel, Rahm Apfel, Rahmapfel, Red Eisen, Rodt arsapple, Roode dubbelde Paradys-Appel, Rossa di Eiser, Rote Eiserapfel, Roter Bach, Roter Calvillartiger Suss Apfel, Roter Calvillartiger Winter Suss Apfel, Roter Calvillartiger Winter Sussapfel, Roter drei Jahre dauernder Streifling, Roter Eiser, Roter Eiser Apfel, Roter Jahrapfel, Roter Krieger, Roter Paradiesapfel, Roter Winter Calvill Suss Apfel, Roter Winter Calvill Sussapfel, Rother Bachapfel, Rother Backapfel, Rother Calvillartiger Sussapfel, Rother Calvillartiger Wintersussapfel, Rother drei Jahre dauernder Streifling, Rother Eiser, Rother Eiserapfel, Rother Wintercalvillsussapfel, Rott Jarnapple, Rouge Ravee, Rouge ravee durable trois ans, Schornsteinfeger, Schorsteinfeger, Tartos Piros Alma, Treckhletnee, Zelezne jablko, Zelezniac, Zelezniak

Availability

Material available from the National Fruit Collection.
Shape

Conical 2

Size

medium 2

Height

54.00mm 2

Width

58.50mm 2

Ribbing

medium 2

Ground Colour

Green yellow 2

Over Colour

Orange 2

Russet

low 2

Coarseness

fine 2

Flesh Colour

Cream 2
Accession No.
1948 - 662
Accession name

Roter Eiserapfel

Flowering time ›››

10th May

10% flowering


15th May

Full (80%) flowering


24th May

90% petal fall

Picking time

Mid October 1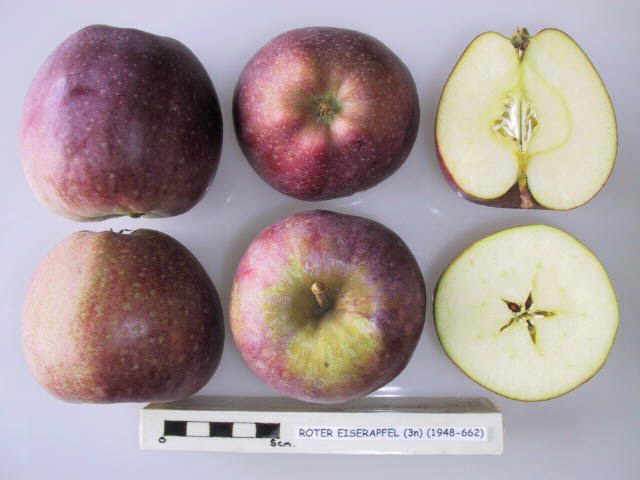 ---
References:

1.

NFC fruit (undated) Unpublished characterisation by staff at NFC, Brogdale.

2.

Smith, M. (1971) National Apple Register