Roter Stettiner
Dessert apple
Malus domestica Borkh.
Originated in Germany. First described in 1598 as Vineuse Rouge and first called Roter Stettiner in 1776. Fruits have firm, fine, greenish white flesh with a subacid, sweet flavour.
Synonyms:

Ada-Apfel, Adam, Annaberger, Bamberger, Beitigheimer, Belle Hervey, Belle-Hervey, Berliner, Berliner Glas, Berliner Glasapfel, Berliner Glossapfel, Berliner Gross Apfel, Bietesheimer, Bietigheimer, Bietigheimer Red, Bietigheimer Roter, Bietigheimer Rouge, Blut Reinette, Blut-Reinette, Bodickheimer, Bodigheimer, Bolzen, Bolzenapfel, Botzen, Braun-Butter, Butter-Apfel, Calviller, Cervene stetinske, d'Adam, d'Annaberg, d'Hiver, de Hardi, de Jardi, de Jardy, de Paradis d'Hiver, de Rostock, de Seigneur d'Hiver, de Seigneur rouge, de Stettin, Eisenapfel, Eisern, Garten, Glas, Guly-Muly, Herren, Herrenapfel, Kack, Kaiserkrone, Kalvaruze, Kohl, Krasnaia scetina, Krasnava shchetina, Krautlander, Kreutlander, Kuchle, Mahler, Malapfel, Maler, Maler Apfel, Maler-Apfel, Malerapfel, Mat, Matapfel, Mela di Stettino Rossa, Mohrenstettiner, Paradies, Paradies Apfel, Podoliskoe krasnoe, Pomme de Fer Vineuse, Pomme Rouge de Stettin, Red Beitigheimer, Red Bietigheimer, Rohwiener, Rosen, Rosenapfel, Rossa di Stettino, Rostocker, Rot Apfel, Rotbacher, Rotbodemer, Rotbolg, Rotbreitling, Rote Reinette, Roter Asbacher, Roter Bamberger, Roter Bietigheimer, Roter Bodigheimer, Roter Calvill, Roter Glas, Roter Hart, Roter Hern Apfel, Roter Herren, Roter Herrnapfel, Roter Kaiser Apfel, Roter Kirsch, Roter Mark, Roter Rostocker, Roter Rubin, Roter Steinhurdlecher, Roter Wein, Roter Wiener, Roter Winter, Roter Zwiebel, Rothapfel, Rothe Hernapfel, Rothe Herrnapfel, Rothe Stettiner, Rother Bietigheimer, Rother Hern, Rother Herren, Rother Herrenapfel, Rother Kaiser, Rother Stettiner, Rother Zwiebel, Rother Zwiebelapfel, Rothvogel, Rotvogel, Rotwiener, Rouge de Stettin, Rubiner, Sauer, Sauerbreitling, Schuller, Schwer, Seiden, Seigneur, Seigneur Rouge, Shchetina, Shchetinka, Shtetin polskii, Shtettinskoe krasnoe, Spater Belichheimer, Spater Calville, Spater Calviller, Stetinske, Stetinske cervene, Stetinskoe Krasnoe, Stettin Rouge, Stettiner, Stettiner Rosenapfel, Stettiner Roter, Stettiner rother, Stettiner Rouge, Stetting Rouge, Strohmer, Stromer, Sztetyna czerwona, Torock-Balint alma, Torok Balint, Tragamoner, Turkischer Weinling, Vejlimek cerveny, Vejlimek chocholaty, Vineuse Rouge, Vineuse Rouge d'Hiver, Wiener-Apfel, Winter Sussapfel, Winter Wollenschlager, Winter-Apfel, Winter-Wollenschlager, Wintersuss, Wittlaboth, Zweibel Apfel, Zweibelapfel, Zwiebel, Zwiebel Apfel, Zwiebelapfel

Availability

Material available from the National Fruit Collection.
Accession No.
1948 - 409
Accession name

Roter Stettiner

Flowering time ›››

3rd May

10% flowering


8th May

Full (80%) flowering


15th May

90% petal fall

Picking time

Late October 1

Size

large 1

Shape

Globose 1

Height

67.46 mm 1

Width

79.21 mm 1

Ribbing

medium 1

Crown

weak-medium 1

Ground Colour

Whitish green 1

Over Colour

Pink 1

Over Colour Amount

medium-high 1

Over Colour Pattern

washed out/solid flush 1

Russet

very low 1

Crunch

crisp 1

Coarseness

fine 1

Flesh Colour

Greenish 1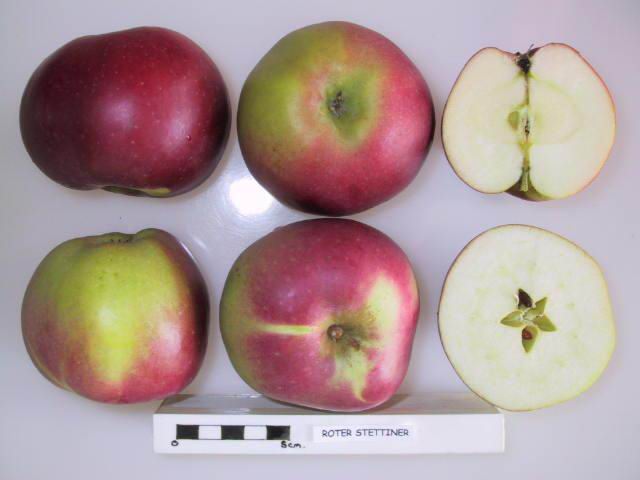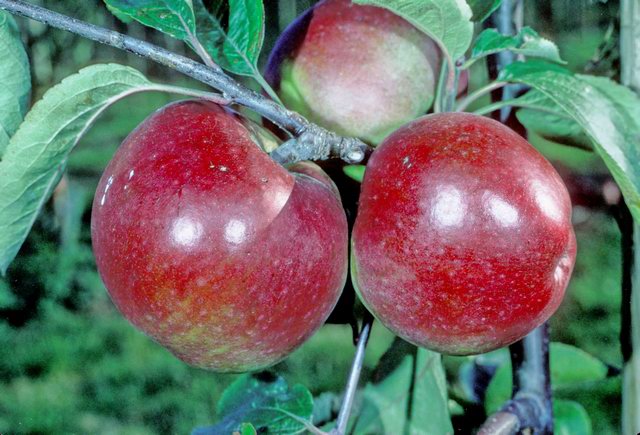 ---
References:

1.

NFC fruit (undated) Unpublished characterisation by staff at NFC, Brogdale.

2.

Smith, M. (1971) National Apple Register