Brabant Bellefleur
Culinary apple
Malus domestica Borkh.
Thought to be of either Flemish or Dutch origin. It was brought to notice in the late 1700s. Received an Award of Merit from the Royal Horticultural Society in 1901. Fruits have firm, crisp flesh with a sweet, subacid, slightly aromatic flavour.
Synonyms:

Belfler Brabantskii, Belle de Flandres, Belle Fleur Brabant, Belle Fleur de Brabant, Belle Fleur Kleiner Brabanter, Belle Fleur Simple, Belle-Fleur d'Automne, Belle-Fleur d'Hiver, Belle-Fleur de Brabant, Bellefleur Brabandse Zure, Bellefleur Brabant, Bon Pommier, Bon pommier, Bon-Pommier, Bon-Pommier d'Automne, Brabandsche Belle-Fleur, Brabansche Belle-Fleur, Brabansche Bellefleur, Brabant, Brabant Belle Fleur, Brabant Belle-Fleur, Brabant Belle-Flower, Brabant Bellflower, Brabanter Belle-Fleur, Brabantse Belle-Fleur, Brabantse Bellefleur, de Brabandse Bellefleur Appel, de Brabandse Bellfleur Appel, Enkele Bellefleur, Gloire de Flandes, Gloire de Flandre, Glory of Flanders, Grosser Brabanter Belle Fleur, Iron, Iron Apple, Kenteman's Apfel, Kenteman's Appel, Keulemans, Kleine Belle Fleur, Kleine Bellefleur, Kleine Brabanter Bellefleur, Kleiner Brabanter, Kleiner Brabanter Belle Fleur, Kleiner Brabanter Belle-Fleur, Koolappel, Large Mouche, New Scarlet Pearmain, Petit Bon Pommier, Petite Belle Fleur, Petite Bonne Ente, Rambour Rouge, Strieping, Sweet Laden, Sweet Lading, Sweet Laydon, Sweet Leyden, Westland Bellefleur, Westlandische Belle Fleur, Westlandse Bellefleur, Winter Belle-Fleur, Winter Bellefleur

Availability

Material available from the National Fruit Collection.

Mother to:

Father to:
Accession No.
1945 - 079
Accession name

Brabant Bellefleur

Flowering time ›››

18th May

10% flowering


23rd May

Full (80%) flowering


31st May

90% petal fall

Picking time

Late October 1

Size

large 1

Shape

Broad globose conical 1

Height

58.75 mm 1

Width

69.66 mm 1

Ribbing

medium 1

Crown

weak 1

Ground Colour

Yellow 1

Over Colour

Red 1

Over Colour Amount

medium 1

Over Colour Pattern

striped/solid flush 1

Russet

low 1

Crunch

crisp 1

Flesh Colour

Cream 1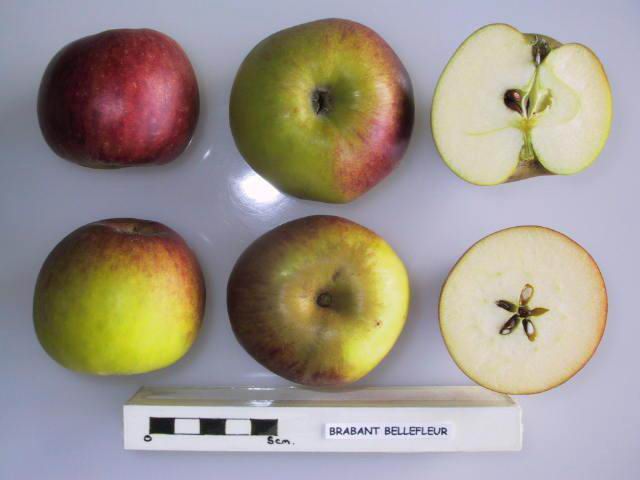 ---
References:

1.

NFC fruit (undated) Unpublished characterisation by staff at NFC, Brogdale.

2.

Smith, M. (1971) National Apple Register