Catshead
Culinary apple
Malus domestica Borkh.
Originated in England and known in the 1600s. A distinctly angular and somewhat ugly apple. Fruits are coarse-textured and rather dry with a subacid flavour.
Synonyms:

Apfelmuser, Cat-Head, Cat-head Greening, Cat's Head, Cat's Head Apple, Cathead, Cathead Greening, Catshead Greening, Catshead Round, Coustard, Crede's Grosser Wilhelm's Apfel, de Seigneur d'Automne, Deutsche SchaPsnase, Duke of York, Engelskopf, Green Codlin, Green Costard, Green Leadington, Grenadier, Gros-Nez de Mouton, Grosse gestreifte Schafsnase, Grosse Schafnase, Grosse Schafsnase, Grosse-Schafnas, Grosse-Schafnase, Grosser Schafsnase, Herefordshire Goose, Herrenapfel, Katzenkopf, Leadington, Leadington Green, Leadington Monstrous, Leichter Mat Apfel, Loggerhead, Monstrous, Monstrous Leadington, Pigs Snout, Pomme de Seigneur d'Automne, Rosskopf, Round Catshead, Royal Costard, Schafnase, Schafsnase, Stock Leadington, Stoke Leadington, Tankard, Terwin's Goliath, Tete d'Ange, Tete de Chat, Tete de Chat Ronde, Tete de Seigneur, Tete du Chat, Tete du Chat (of Jersey)

Availability

Material available from the National Fruit Collection.
Material held in Tidnor Wood National Collection® of Malus (Cider making)

Mother to:
Accession No.
1927 - 027
Accession name

Catshead

Flowering time ›››

6th May

10% flowering


11th May

Full (80%) flowering


19th May

90% petal fall

Picking time

Early October 1

Size

large-very large 1

Shape

Globose conical 1

Height

85.47 mm 1

Width

86.12 mm 1

Ribbing

strong 1

Crown

medium-strong 1

Ground Colour

Green yellow 1

Over Colour

Orange 1

Over Colour Amount

very low 1

Over Colour Pattern

washed out 1

Russet

low 1

Greasiness

Strong 1

Crunch

crisp 1

Flesh Colour

White 1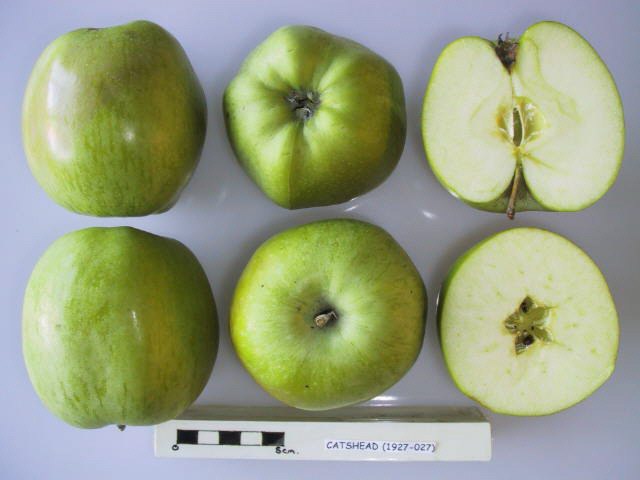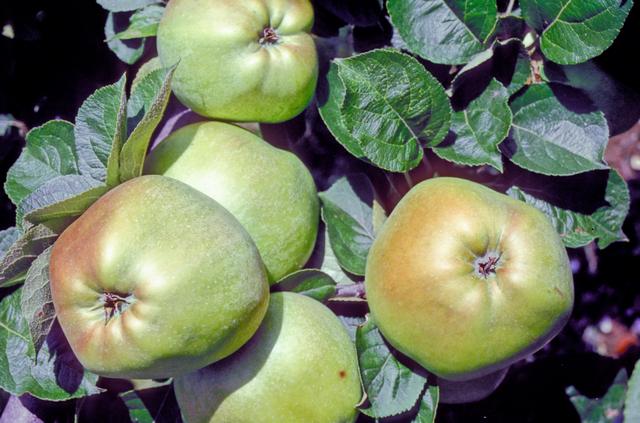 ---
References:

1.

NFC fruit (undated) Unpublished characterisation by staff at NFC, Brogdale.

2.

Smith, M. (1971) National Apple Register