Dumelow's Seedling
Culinary apple
Malus domestica Borkh.
Raised by Mr Dumelow (or Dumeller) at Shakerstone, Leicestershire. The original tree was growing in 1800. It was exhibited as Dumelow's Crab in 1818, and renamed Wellington in 1819 or 1820. Fruits have very firm, crisp, juicy flesh which is extremely acid. Cooks well.
Synonyms:

Beauty, Belle de Vennes, Belle des Vennes, de Sutton, Doncklaer, Doncklaer Seedling, Doncklaer's Seedling, Donclaer, Donclaer's Seedling, Duc de Wellington, Duke of Wellington, Dumeller's Crab, Dumelon's Seedling, Dumelow, Dumelow Seedling, Dumelow's Crab, Dumelow's Pippin, Dumelow's Wildling, Dumelows Crab, Dummelow's Seedling, Duncklaer's Seedling, Dunclaers Seedling, Durmmelous Seedling, Fair Maid of Taunton, Hawthornden d'Hiver, Hawthornden Winter, Lord Duncan, Lord Hampton's Wonder, Normanton Wonder, Pomme de Sutton, Reinette Wellington, Souring, Souring Apple, Supson FrangT, Supson FrangTe, Sutton Beauty, Wellington, Wellington Apple, Wellington Pippin, Wellington Reinette, Wellington's, Wellington's Apple, Wellington's Reinette, Wellingtons Reinette, Winter Hawthornden, Wunder von Normanton

Availability

Material available from the National Fruit Collection.

Parentage:

Northern Greening x Unknown

Mother to:

Father to:
Shape

Flat globose 2

Size

medium 2

Height

53.50mm 2

Width

67.00mm 2

Ribbing

absent 2

Ground Colour

Whitish yellow 2

Over Colour

Red 2

Over Colour (Amount)

low 2

Over Colour (Pattern)

mottled 2

Russet

very low 2

Greasiness

Medium 2

Crunch

crisp 2

Flesh Colour

White 2
Accession No.
2000 - 033
Accession name

Dumelow's Seedling

Flowering time ›››

9th May

10% flowering


15th May

Full (80%) flowering


23rd May

90% petal fall

Picking time

Early October 1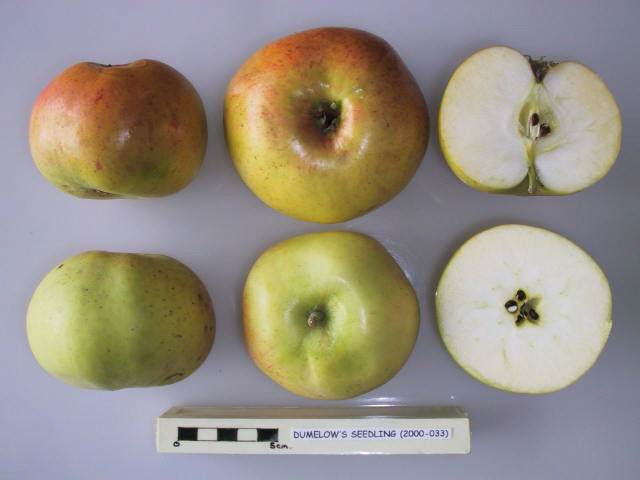 ---
References:

1.

NFC fruit (undated) Unpublished characterisation by staff at NFC, Brogdale.

2.

Smith, M. (1971) National Apple Register